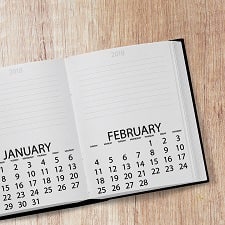 As the New Year starts, I thought it might be fun to talk about how to schedule repeating tasks — specifically, what yearly things do you do, or have built in to your year (month? quarter?) so that you can help stay on top of all the various tasks that build up, whether for your personal life, career development, job search, or more?
I think it all started with the "year in review" posts I've been doing here at Corporette for about five years now, as well as my attempt to keep on top of family photos from the past year enough to do a family calendar (also from the past 5 or 6 years or so). But the past few weeks this "review tic" has spread and I've been TRYING to sort way too many things lately, hoping the task will become a yearly one.  Lately my focus seems to be on drawers, and in the past week I've gone through my desk drawer, my makeup drawer, my sock drawer, my filing cabinets — all for the first time in a zillion years. I'm considering doing a brain dump of everything I'd *like* to sort through, then parsing them out into a few a month… but, well, I haven't had time to do that yet.  I actually used to have a cleaning system that kind of worked like that — each month had a different "big" cleaning task (windows, blinds, duvet cover, etc) and it was all fine when I was doing it myself but I never seem to think about it since we've been using professional cleaners for a few years now… I should put it back on my to do list! (When I gear up for our taxes in a month or so I'll do my yearly financial review of all the different subscriptions we're paying for, since I tend to forget anything on autopayment. Oh, I'm also trying to get rid of a ton of bags we've had building up to donate and recycle old clothes…)
I'm sure that some of you guys must have even better systems, though, so I'd love to hear what you do — what do you do "every January"? Do you have different tasks for every month of the year? Do you only do big things like that (reorganizing drawers and the like) as they bug you? (What do you delegate, and to whom?) How do you organize regular review tasks like that in a way that doesn't get overwhelming but keeps your life running as smoothly as you'd like it to?
Picture via Stencil.