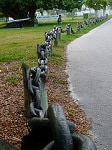 2018 Update: We still stand by this advice on how to use LinkedIn, particularly if you're junior– but you may also want to check out our latest discussion on LinkedIn, including how to get the most out of your LinkedIn profile in 2018.
What is the proper way to use LinkedIn if you're junior employee? Has it changed through the past few years?
This came up recently when I linked to a 2008 Corporette post about how to leave an internship — there, I advised interns:
It's fine to use Facebook or MySpace to connect with the other students you summered with. If you want to, it's not inappropriate to use LinkedIn to connect, either. However, do not request to become "LinkedIn" with superiors at the company, unless you'd also ask them to recommend you to a future employer — it's more serious than a casual link, and no one has really had time to assess the other person's work. Requesting to become linked to an mid-level or senior person you had lunch once or twice with, or wrote a memo for, is really not acceptable.
Do I still agree with this advice? Yes and no. I will say that how I use LinkedIn has changed over the years. In 2008, I remember approving a request from a casual friend I'd known in college. We were never close, I'd never worked with her on a school project, and I hadn't seen her or talked to her in nearly 10 years. What, I worried, did our connection mean? If she had turned into a poor worker, would that reflect on me? And so from that point on I chose not to approve anyone unless I could vouch for their work.  (Pictured:  Connections, originally uploaded to Flickr by carlaarena.)
Over the years, though, how I use LinkedIn has changed. Now, I use it more as a collection of people who I would like to know what's going on in my professional life, as well as who I'd like to keep tabs on. After all, if the lousy economy and job market of late has taught us anything, it's that connections matter — having someone personally pass along your resume can hugely affect how it's viewed and where you fall in the list of contenders. And, I'm now of the opinion that it's best to network and add friends on LinkedIn when you don't need anything — in other words, don't wait until you're laid off or fired to ask people to connect with you.
That said, there's still an etiquette involved — which brings us back to why I still agree, in part, with my advice to interns in 2008. I still believe LinkedIn is a way to recognize an already-present relationship, not a way to begin a friendship. So when I request a higher-up to connect with me on LinkedIn, I ask myself the following — how well do I know them? The questioning may follow the lines of "If I ran into them at a crowded restaurant while we were both waiting for tables, would we be happy to see each other and chat for a bit?" More finely parsed: Do they know my name as well as my face? Have I had at least three conversations with that person? Will they remember who I am if I haven't seen them for six months?
Part of building a good list of connections, though, is protecting that list of connections, which is important to think about when someone more junior asks to connect — after all, connections can ask to be introduced to each other, may be able to see more of someone else's profile than they would otherwise, and a job seeker can always note something like "we're both connected to ___ on LinkedIn" in a cover letter or say it at an industry event. (Tip: Do NOT do this unless you know that connection WILL vouch for you.) But for the most part, if I know you, I will go ahead and approve the connection — unless I have serious doubts about your character.  For example: I have another old casual friend who I haven't talked to since 1998 or so. According to the rumor mill, this person has been primarily working as an actor — in the pornography industry.  We recently connected on another social networking site, and I noticed that the person's profile and use of the site is a bit bizarre. Not inappropriate, just… bizarre. So: I've been sitting on the LinkedIn request from the same person (which seems kinder than outright denying the connection). That said, lately I have been getting requests from people who I have no idea who they are, or who I barely know who they are — e.g., I just met him or her briefly at a conference.  In those cases, a follow-up email would have been better than a LinkedIn request, I think.

Readers, what are your thoughts on how to use LinkedIn, particularly if you're junior? How carefully to you "guard" your list of connections? How do you decide when to request a connection, or when to approve a connection?