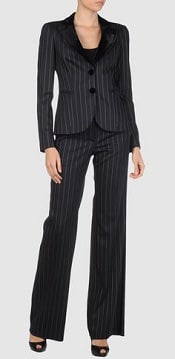 Reader J wonders how women should wear pinstriped suits…
I am a senior associate looking for a lateral position when/ if the job market improves. I recently bought a lovely dark navy pinstripe suit for interviews, as my other suits were looking tired. However, once I got the suit home, I realized I don't have any shirts that match.

What color shirt would go well with a blue pinstripe suit, other than white? (I really don't dig the blue suit/ white shirt look: it's too "mannish", plus I am far too pale to wear white.) I know patterned shirts are probably out with the pinstripes. Would a tan or putty color work? How about a medium grey? Army green? Brown? A "banker's shirt" that is light grey with a white collar and cuffs?? Help!!!
Interesting question! Pinstriped suits can be tricky to accessorize. Pictured above: EMPORIO ARMANI Womens' suit, available at Yoox.com for $455.
First: Reader J didn't ask about this, but to the readers who may be wondering: yes, you can wear black accessories with a navy suit. So already I'd start looking at, perhaps, a black patent pump and a black patent bag (large enough for your resume, of course) to accessorize.

Second:  There are tons of complimentary colors for navy, and your "color" doesn't just have to come from the blouse. For example, a white or cream blouse with a colorful necklace (or red lipstick) could be a powerful look on the right person. A light blue or French blue is also a classic look. (I would, of course, advise adding pearls.)  To be honest, for interviewing I would probably stick with those colors — you could perhaps add a pop of a more lively color (a teal or purple or something) in a necklace or brooch, but for an interview you don't want to be noticed too much for your fashion skills.  (Pictured at right:  a purple necklace that might look nice, worn on top of a cream sweater beneath an open pinstriped jacket: Kenneth Jay Lane 36″ Purple Square Graduated Bead Necklace, available on sale at Piperlime for $67.)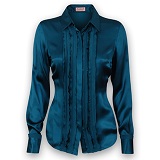 That said, a number of other colors look great with navy. Pastels, for example — a light purple blouse could look great with it, or even a mint green. These are still very conservative colors (men wear them with suits!) but a bit more fun than your basic white or light blue. Jewel tones also go nicely with navy pinstripe, but note that 1) they take the outfit firmly into the feminine (you're not likely to see many male CEOs wearing a teal or royal blue shirt), and 2) they make the outfit much darker, which might look a bit out of season if you're interviewing in March or beyond. I would stay away from tan or putty or light gray — they just don't strike me as being either powerful (how many partners at your firm have you seen wearing a light gray shirt?) or flattering. Pictured at left: Seasonal Green Luxury Maurice Women's Shirt – Button Cuff
, on sale at Thomas Pink for $175 (was $270).
Finally:  Remember, the pinstripe has been a classic for men's suiting for eons. And so if you think about the way men have mixed patterns and colors with their jacket, shirt, and tie, you'll realize that you can mix prints if you want to. (I believe the general rule for men is that of the three items (jacket, shirt and tie), only two should be prints.)  For a non-interviewing day, for example, you might try pairing a floral blouse in a complimentary color beneath the suit jacket. You might also try wearing a good quality white or cream t-shirt beneath the jacket, and adding a long scarf (either oblong in shape, or folded to be oblong) — I knew one woman who always did this with Hermes scarves because she found that the tags on her jackets were itchy against her neck, and it was a wonderful way to add color and vitality to her outfits.
Readers, how would you accessorize a navy pinstriped suit for an interview — or for a regular day at work?