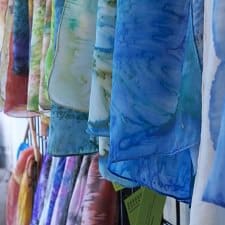 2018 Update: We still stand by this advice on how to wear silk scarves (and links have been updated below); you may also want to check out our more recent discussion of how to wear scarves to work in 2018.
Today's reader mail is all about how to wear silk scarves…
I've got two silk scarves I bought because I fell in love with them, and one black tie. I never wear them, because I've no idea how one is supposed to wear it! Besides, can a woman in her early 20s even pull off that look without looking like an in-flight attendant? If yes, are they supposed to go on the neck under the shirt (I've seen that look a few times), over the shirt and under its collar? Does one knot them or just let them hang down, if one knots them – does it matter how?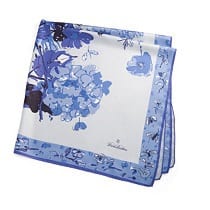 We used to work with a woman who always wore the most beautiful Hermes scarves — her wardrobe was primarily black, white, and gray, and the scarves were a rich addition of colors and patterns. She had one that had elements of a beautiful, almost hot pink, and it was incredibly flattering on her, particularly so close to her face — but because it was just a scarf, and amidst other colors, no one ever would have said that the scarf was too pink or girly or feminine. We asked her about her scarves once, and she confided to us that she wore them because she found tags at the nape of her neck to be itchy. Her scarves absolutely worked for her — and although she was at a senior level, we think the fact that they worked had more to do with her body type: tall and slender. (Specifically, she would wear them with a collared jacket and collar-less sweater or tee, worn between her jacket's collar and her tee's collar — they were unknotted and, while we think they were generally square scarves, she wore them folded into an oblong shape.) (Pictured at right: Tonal Hydrangea Silk Scarf, from Brooks Brothers (no longer available) — Nordstrom also has a great selection of silk scarves for work.)
Our own body type is the opposite — petite and curvy — and we've had trouble making scarves work for us, although we've fallen in love with (and bought) far too many. (In fact, the last time we can remember wearing one was when we wore a DvF dress and realized too late that it was WAY too low cut for the office — we tried to tuck the scarf into the neckline of the dress — faux blouse! — and wound up annoyed at how much we had to readjust throughout the day.) Readers, we'd love to hear from you — how do you wear silk scarves as a young professional? What are your favorite styles, fabrics, styling tricks and more?
Social media images via Stencil.