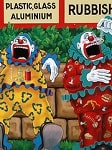 We've had a great time reading the comments on our "what clothes to buy for your summer internship" post on Monday — it brings to mind so, so many memories of summers past where we'd think, HOW in the name of God did X get through high school, let alone college, with this thick a skull? Especially in this economy, you need more than just the smarts and scores that got you past the admissions office — you need survival skills and street savvy. And, in case it needs to be said: No summer should feel entitled to anything. Here are some from our "greatest hits" list — please add more in comments. Pictured: Clowns, originally uploaded to Flickr by Earls37a.
If your company or firm invites you to a closed-door meeting of any kind — deposition, mediation, etc. — please do not check your Blackberry. Seriously, I've sat in depositions with six people, and the partners and the associates and the witness are taking the day's events seriously — and the summer associate is sitting there checking their Blackberry. Tell your secretary where you are; you can check your Blackberry when the partner does. And yo, that game of Brickbreaker can wait.
In the same kind of meeting, I've sat next to summer associates who took their shoes off under the table. Say what? Seriously? Shoes stay on.
No gum. Where? Anywhere, if you can help it, but use this rule of thumb: are you outside your office? Then swallow your gum.
Here's another tip — try to make it seem as if you enjoy academic endeavors. Fake it if you must, but avoid saying things like:

Oh, yuck, the library? I hate reading.
Yeah, sorry I got all those details wrong; I'm really more of a big picture guy. (Great! We'll just tell the partner/CEO to take a vacation, then.)

If your back (and computer screen) faces the door/hallway, special rules apply. 1) If you wear a thong, it should never, ever, show. (Really, this goes for any underwear, but we would vastly prefer to see the top of someone's boyshorts to the top of someone's G-string.) Test ALL of your pants and skirts for whether you can sit and bend in them without compromising yourself. 2) Facebook, shopping websites, even Corporette (yes, it pains us to say this) should be considered, by you, off limits during the workday. You could shut your door, of course, but that's bad for summer associates — and if your screen is at all visible you don't want to be seen goofing off. Even if you have no work at all, sit down and write a letter to a friend, or get some newsletters/legal magazines from the library to read through. (In fact, employers not only have the right to check your computer's browsing history and so forth, but it's also been reported that more than 70% do so. Keep this in mind while browsing the Internet this summer.)
Urban legends abound from people who drank too much at summer events — don't be one. We've talked before about what your drink says about you, but in this economy, be conservative. We'd suggest taking one glass of wine and holding it. No drinking until the afterparty — and there, go with the ratio of one drink to one diet Coke (or glass of water or club soda or whatever). And please, please, don't decide it's a great time to taste different bottles of champagne or to invite your six girlfriends who don't work at the firm but really want to meet the guys you work with.

Those are the tips that come to mind for us — readers, please add your own…