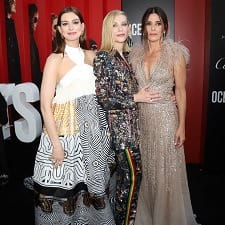 Here's an important question I've wanted to discuss here for a while: who is your imaginary celebrity BFF? Do you enjoy him or her for their style sense, their wit, their activism? Do you look to them for imaginary guidance (what would J.Law wear to this event?) or do you just have a funny sense that if you were to somehow meet in real life you'd just get along smashingly? Who was your imaginary celebrity BFF at various points in your life — let's say at 15, 25, and your current age?
For my own $.02: at 15 my imaginary celebrity BFF was probably Sandra Bullock — she seemed smart and funny in Speed, one of my favorite movies around then (although that probably had more to do with my imaginary celebrity boyfriend, Keanu, ha.)  I also really liked Drew Barrymore, although she seemed a little crazy but in a good way.
At 25, I was in law school and binge-watched a lot of silly reality TV shows between classes so I'm going to go with either Tyra Banks or Tim Gunn. Ah, Genevieve Gorder from Trading Spaces also seemed very cool. I also remember being ridiculously happy when Queer Eye came on, probably with Ted Allen as my favorite.
These days my imaginary celebrity BFF is probably back to Drew Barrymore — love Santa Clarita Diet — or possibly Cate Blanchett or (wow do I feel lame saying this) Meghan Markle, who I've been a fan of ever since I read this piece in Elle about her college admission essay (also, Go Cats!).
OK ladies, over to you — who's your imaginary celebrity BFF now? Who was it at ages 15 and 25? Have you ever broken up with an imaginary celebrity BFF?
Looking for other fun, lightweight fantasy open threads? Here's our last discussion on celebrity crushes, what we'd do if we won the lottery, as well as (on CorporetteMoms) our last discussion of what we'd do if we had a weekend all to ourselves.
Picture credit: JStone / Shutterstock.com.