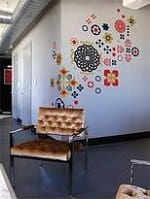 We've talked about general ways to personalize your office, as well as office staples you must have (toiletry, tech and clothes), as well as a few other decor topics as well… still, one topic we haven't covered is where to get great wall art for your office.  Readers, please chime in if you've had good experiences anywhere — we'd love to hear about your favorite shops!
N.B. We'd advise checking with your office manager before you do anything that might be a pain to remove or cause damage to the space (e.g., wall decals, large/multiple nail holes, heavy things on the wall).  Also — know your office!  Not all of these tips will work for every office space.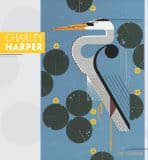 1. A Calendar. No, it's not exciting, but it is a cheap way to add color to your walls, with the added bonuses that the calendar is actually informative, as well as extremely easy to swap out/remove entirely.  You can get them at almost any bookstore, as well as at more indie-friendly places like Zazzle.  One tip: You may want to save the Justin Bieber/Twilight calendars for your home, and stick with landscape/photography/art calendars instead. Pictured: Charley Harper 2011 Wall Calendar
, available at Amazon for$11.19.

2. Paintings and prints. For my $.02, almost anything goes here, with the minor exception that the pieces should look intentional — i.e., don't tape the same poster to your wall that you had in your bedroom at college.  (At least get it framed!  Pretty please?)  I'll also say the obvious, just for kicks: no nudes.  You may also want to avoid pieces that will make people uncomfortable.  (For example, at one point I wanted a Jenny Holzer poster for my office and am now really glad I didn't get one, even though I still love her work.)  There are a number of great options here — from framed prints at museum stores to something more unique, like the $20 art available at 20×200 to other indie sites like 2modern, Supermarket, and more.  (Readers, help us out here — which are your favorite spots?) Similarly, the flash sample sale site One King's Lane often has sales on office-appropriate decor (click here if you need an invite).  You can also turn personal photographs into wall art if the photo resolution is high enough.  I've used Mpix for 16×16 gallery wraps, with great success, but lots of sites offer this.  Again — this is wall art for the office — so you may want to keep it neutral (that beautiful sunset and city skyline you shot on your bar trip) and not personal (that picture of you and your husband kissing on your wedding day).  (Pictured: The Tortoise by Carrie Marill, available at 20×200 for $20-$2000.)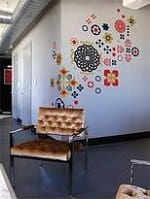 3. Wall Decals. I have used these (on the inside of my front door for my old apartment) and they stuck great for about 2 years, and then *mostly* removed easily when it was time to go (there were a few tiny spots where the door paint came off) — so they're a good option for the office if you want something large, colorful, and removable. Mine were from Urban Outfitters, but you can get them from a huge number of places these days, including Etsy, children's stores (Toys R Us, PB Teen), big stores (Walmart, JCPenney, Sears, Bed Bath & Beyond) and, if you're lucky, you can catch a sample sale like RueLaLa or One King's Lane having a sale. Pictured: The Rococo Pop Wall Decals by Blik, available at Velocity Art & Design for $90.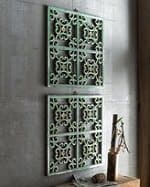 4. Three-Dimensional Art. These kinds of pieces can be more creative — window panes, pre-purchased art like the one pictured, or even shadow boxes filled with candy wrappers or other irreverent pieces.  Similarly, I remember seeing a feature in a magazine about how to turn a book into a piece of artwork by turning the pages down in an origami-like, artistic way — and then mount on the wall with plate hangers.  The downside here is that these pieces can be heavier to hang — as we noted above, please check with your office manager first!  Pictured: Antique Window Panels, available at Horchow for $695.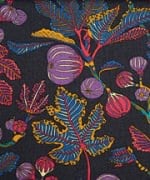 5. Hanging Fabric. If you have beautiful bolts of fabric, but nothing to do with them, you may consider stretching them over canvas and hanging the piece in your office.  I've seen this done recently (at the home of a friend who works for an airline company and has traveled extensively), and the pieces were really stunning.  Pictured:  Alma C Lantana fabric, available at Liberty of London from £34.95.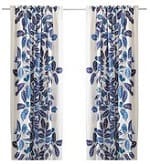 6. Curtains. I've only seen this done in VIP's offices, to be honest (where they've had interior decorators come in) but in theory, there's nothing wrong with bringing in curtains to brighten up (or darken) your space.  The Pros: Yes, you'll need the maintenance guy at the office to come help you install the hangrods or other hardware, but when it's time for you to go it's just a simple hole in the wall to patch up.  The Cons:  You really, really want to avoid any "bedroom" vibe to your office — so be careful with going too childlike or boudoir-like.  Pictured:  IKEA STOCKHOLM BLAD, available at Ikea for $60.

Readers, what are your tips for wall art, and other thoughts on office decor?
(L-#)