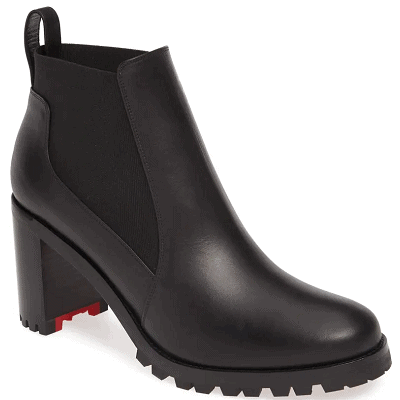 Ladies, what are your thoughts on lug soles? They're a huge trend for Fall 2020, as I noticed when I looked at the shoes in the big NAS sale. Truly, everyone is doing the trend — the pictured Louboutin boots are $995 from Nordstrom.
Still, I'm a bit torn.
On the one hand, I remember fondly all my shoes from my early 20s with lug soles — so comfortable and skid-free, and great for walking and stomping around in general. I mean, MAN, how many Delia*s catalogs featured girls in lug-soled combat boots?
But… as always, there's that moment of hesitation with the second time you see a trend. The old advice was, "If you wore it the first time, you're too old to wear it the second time." But in today's fast fashion world, trends come and go so quickly — I almost think the adage doesn't hold water anymore.
More importantly, here, though, the lug sole is comfortable, which at this moment in my life, I am all for. I may opt for a more affordable version, though, such as these Sam Edlemans or these Caslon boots (which I actually got in the NAS and am still pondering).
Readers, are you into the lug sole trend for Fall 2020? What shoes or boots do you think you'll be wearing the most this fall?
(Bonus question, for those of you going into the office: Do you think a lug-soled boot is appropriate for a conservative office, or is the look too casual?)
This post contains affiliate links and Corporette® may earn commissions for purchases made through links in this post. For more details see here. Thank you so much for your support!
Workwear Sales of Note (as of 4-22-21)