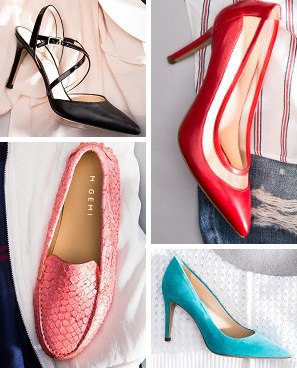 This post is sponsored by M.Gemi, but is written by your local friendly blogger, Kat Griffin.
As I mentioned a few weeks ago, I was super excited for the new luxury shoe brand, M.Gemi — not only do I have a friend on the inside, but their launch last week went swimmingly, with some styles already selling out.  The basic premise: they sought out the most respected, family-owned specialty shoe factories all over Italy.  There, they conceive, design, source, pattern, last, stitch, and finish all of their limited edition shoes.  Then, they sell them directly to you.  Because they cut out the middleman, they can price their shoes much less than other luxury brands, even though they're using the same quality leathers and materials.  As an added bit of fun, they've pledged to come out with new styles each week.  (You can read more about their process in their FAQs.)
Shipping and returns are free, but they do ask that you return shoes within 14 days of receiving them.
(Pictured at top, clockwise: Farfalla pump, Riveli pump, Fiero pump, Felize loafer.)