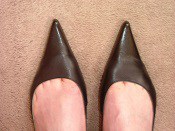 Today's reader mail comes from reader E, wondering: is toe cleavage appropriate for the office? She also wonders what hosiery to wear with pumps (other than bare legs)…
My feet get sweaty while wearing pumps all day. Am I supposed to be wearing some type of hosiery-sock with them? How do others deal with the sweaty feet issue? Is it even appropriate to have the bare tops of my feet showing while I'm in pumps?

And in that same vein, what are your thoughts on "toe cleavage?" Some of my pumps are cut so low that I'm flashing toe cleavage at work. Can you recommend pumps that are cut higher?
We're curious what the readers have to say about this one. (Pictured above:  Toe Cleavage, originally uploaded to Flickr by cuteheels.)
For our $.02: We find it difficult to walk in pumps while wearing trouser socks or tights — on those days we tend to wear Mary Janes, T-straps, or at least something with a higher vamp. And we've seen plenty of women on the streets of New York wearing pumps and bare feet. There do exist various kinds of socks — toe covers or other — but in our experience they tend to be very difficult to wear with pumps because the cloth from the "sock"  is always showing.
Update: these are some of our latest favorites…

(A guiding principle, though: for the love of God, please do not take your shoes off if you're sitting in a meeting. In your own office, fine, but no one wants to see bare feet beneath a conference room table. Actually, no one wants to see bestocking'd feet, either.)
But then, our feet don't get that sweaty — apparently, camel leather shoe inserts are your best bet to helping control that issue. (If anyone can recommend a brand of such inserts, we're sure our reader would appreciate it — we can't seem to find one.) 
Psst: here are some great products to help with "sweaty feet syndrome…"

We would also advise giving your shoes a day "off" between wearings, to let them air out and so forth.
In terms of toe cleavage — this has historically been a controversial issue, and maybe one that's ripe for a poll. But that said, personally, we don't mind it.
Here's our reasoning on whether toe cleavage is acceptable for work:  there are a variety of reasons why other types of shoes are considered not acceptable for the office.
The peep toe requires a perfect pedicure (and hopefully the wearer doesn't have unattractive toe problems, such as hammertoes or things). The tall boot (which, according to our poll a few weeks ago, 1 out of 5 women would still say is "absolutely, always inappropriate" for the office) veers a little too close to the "dominatrix/stripper" vibe.
And yes, there's the name — cleavage — but, let's face it:  a view of your toes isn't similar to a view of your breasts. (Also, we're a little biased because a friend of ours had a great kitten-heeled pair of Louboutins that showed toe cleavage, and we loved. those. shoes.)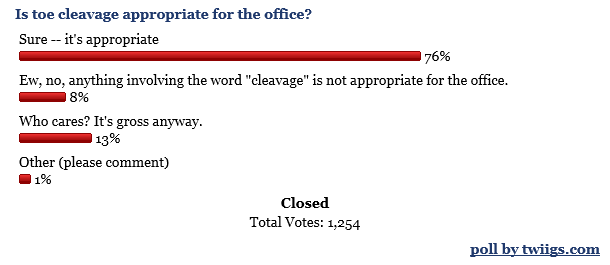 Readers, what are your thoughts: is toe cleavage appropriate for the office?