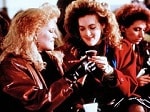 2016 Update: We still stand by the advice in this post, but you may also want to check out our latest discussion of whether you can be friends with your secretary. 
Can you be friends with your secretary?  We got this e-mail from Reader A and it raises a lot of interesting questions, such as how to treat your assistants, how to behave in a male-dominated field where you're one of the only women who isn't a secretary, and so forth….
I'm wondering how one is friendly with colleagues at work without becoming friends with colleagues at work. I'm an attorney and have recently moved to a firm where I'm the only female attorney, and the staff is comprised almost entirely of women. I was warned in a joking manner by one of the partners when taking the job to beware – previous female attorneys at the firm have fallen victim to being 'friends' with staff (regular lunches, after-work drinks, etc) and then later suffer the wrath should someone need to be called on the carpet for job performance or with claims of favoritism.

So far, I've gone to lunch with only a couple of people who have initiated the invitation, and I avoid discussing others in the office and steer conversation away from that topic. However, I plan on being here a long time, and I wonder if you or your readers have insight that might help me or have found themselves in similar situations.
Right? Great e-mail. So far, what reader A is doing sounds great to us. Here are some further tips:
There's nothing wrong with finding a friend who happens to be a staffer. Like our advice for dating at the office a few weeks ago, though, we would not recommend looking for a best friend at the office (really, among the staffers or elsewhere). Aim for collegiality. You're all in this together, and you all have your own jobs to do, and it's often best if emotions are kept out of it.  Friendship can be harder with people you supervise directly —  it's important to see both their skills and weaknesses as clearly as possible, so you can compensate and better manage, either by delegating things in certain respects, or knowing to phrase your requests in a certain way.
If you are the only female supervisor you have to recognize that they're going to be looking at you completely differently. What you wear? Open fodder for discussion. How you act? It's likely to be subjected to some judgy attitudes — e.g., if you don't cheerfully smile you'll be branded a bitch; if you don't act grateful then you'll be seen as too good for yourself.   You have to walk a delicate line.  Be friendly and, importantly, be cheerful whenever possible.  Remember details about the staffers you work with as carefully as you would remember the details about a superior — the names of their children, their husbands, their pets — these are important things.  But:  be careful about partaking in activities that your male colleagues are not partaking in.  Skip the manicures, girl's night drinks, or any sort of bakery circle.  Our reader is particularly very smart to avoid the gossip.
Age differences can be even weirder with staffers. Do your best as a manager to treat everyone the same, regardless.  We've had assistants who were just out of college, and we've had some who were old enough to be our mother.  Try not to treat the young'uns in a mothering way, and if your assistant is older than you don't let her treat you in that way (i.e., tidying your office if it isn't part of her regular list of tasks).
Seek alliances where possible. With everything above said, recognize that there are likely some very powerful women among the staffers.  Perhaps they've been there 20 years and everyone looks to them for how to act and what to say.  Perhaps they're the top partner's assistant and they have his ear.  Either way — if they're the one asking you to a manicure, you might want to accept.
Readers, what are your thoughts?  What's your best advice for dealing with staffers and assistants, whether you're the only female lawyer on staff or not?