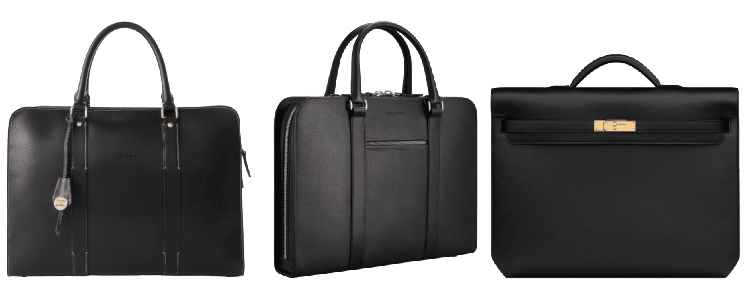 Someone tweeted (X'ed?) at me just last week, asking about the best briefcases for women… I suspected that they meant "general work bag," but on the off chance that they meant a traditional briefcase, I was intrigued.
(In general, the correct answer for "best work bag for women" is either Cuyana or Lo & Sons.)
We haven't talked about the issue in a LONG time, though… so I thought I'd round up some briefcases for women.
Do YOU use a briefcase? (And if so, please list your city!) What brands do you like best?
Here's another question — have you ever had a briefcase made? One of my family members swears that she and all the other working women she knew had that done in the early '80s…
Are Briefcases Right for Professional Women in 2023?
Readers have discussed this in comments from time to time — the briefcase. One commenter advised the readers that in her big city, "not a single woman lawyer I know under the age of 50 carries a purse." This led to a small debate between briefcase-carrying women and non-briefcase carrying women.
To my eyes, though, in 2023 it's rare to see a briefcase. Most women I know carry a tote bag for when they need space to carry documents, and/or a backpack when they really need to carry a laptop.
Those frequently carrying files may switch to a tote/purse combo, but even then it seems like something I saw a lot more of a few years ago, before the cloud, flash drives, remote logins, and other convenient telecommuting tools were as common.
(I've even written about what your tote bag says about you.)
What is a Briefcase, and How Is It Different From a Tote?
In my mind, the defining feature of a briefcase is that it has a short handle and is meant to be carried at your side, or maybe dangling from the crook of your elbow. It should be large enough to fit at least a pad of paper, ideally a legal size. They don't have to be deep, but they should be large enough to fit at least a 1″ binder. They can be made of a fabric or leather, although I tend to think of them as a being made of a good-quality leather. I also tend to think of them as having enough structure that they can stand up by themselves.
Contrast that to the classic tote bag: These generally have much longer shoulder straps, although they may also have a short handle as well. Tote bags are also frequently much deeper than briefcases; some even fit an extra pair of shoes, a water bottle, or even a lunch bag.
If you prefer a more modern idea of a briefcase, you may want to look into some of the larger padfolios or leather document holders out there. These can be carried under your arm like a clutch, or carried in your hand like a redweld folder. (See below for some of our latest favorites!)
Our Favorite Briefcases for Women
Here are some classic briefcases for women that have been around for a while — in fact the Dooney & Burke option has been around since at least 2010.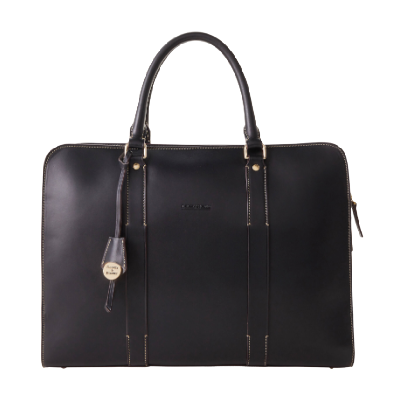 Some Great Trendy Briefcases
The Luxury Briefcase: Mulberry Bayswater
If you're hunting for a gorgeous leather bag with some designer cachet, check out this Mulberry satchel. like the fact that it has feet (so rare these days!!) and smartphone pockets, but do note that it's unlined.
The pictured Bayswater is one of the largest sizes; it's $1,650 at Nordstrom.
The Modern Semi-Briefcase: Leatherology
I feel like this is briefcase-adjacent, but a reader had been looking for a large leather clutch/folder just like this, and this was suggested by one of the readers. It's gorgeous! I love how it's like a cross between a padfolio and laptop sleeve — almost like an elevated redweld.
The pictured holder is $150 at Leatherology; it's available in five colors.
Hunting for something similar but more affordable, or with a wider range of colors? Etsy shops have a number of options, including this $30 leather folder, this Macbook laptop sleeve with pockets for $90, and this option for $50. And, of course, you can just buy plain redwelds (or, hopefully, get them from your office supply closet).
The Affordable Briefcase from Amazon: Cluci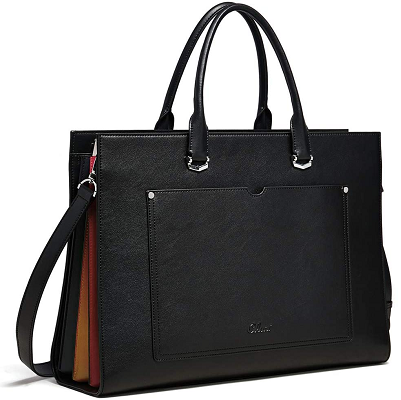 This "briefcase for women" at Amazon looks great. I like the options of the long strap (handy for your commute) and the shorter handles (more attractive), and the fact that it's real cowhide but under $180 is great.
There are seven colorways (including burgundy, always great with navy), and I particularly like the multicolored accordion side, which reminds me of a redweld in the best way. It has tons of great reviews at Amazon.
The Convertible Briefcase: Senreve
It's somewhat rare to see a briefcase that converts into a backpack, so this entry in the category from Senreve is appreciated! It is more on the "satchel that CAN be a backpack" side of things, perhaps with a healthy dose of "so long as you don't put anything heavy into it while wearing it as a backpack" kind of caveat.
The bag comes in a ton of colors, and there are even "vegan leather" options for $695-$995. The pictured version is $995.
The Best Alternatives to Briefcases for Women
The Best Work Tote Bags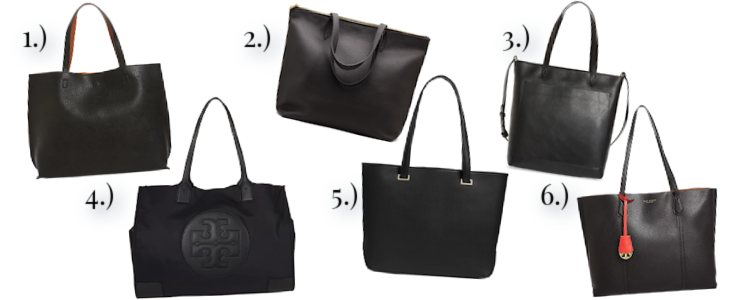 (Looking for a luxury work bag? Here's our latest roundup…)
The Best Laptop Totes for Women
The Best Work Backpacks for Women
Update: Hunting for the best work backpacks? Some of our favorites in 2023 are below — see the full post for all the details!
The Overall Best Work Backpack
The Best Convertible Laptop Backpack
The Best Affordable Backpack for Work
Looking for work backpacks to splurge on? Montblanc, MCM and Senreve are great, and Valextra has some men's backpacks that look perfect.
Stylish Padfolios for Women
Psst: Check out some of our latest favorite office padfolios as of 2023, below! If you want something monogrammed, check out Leatherology, Levenger, or (for a splurge), Smythson. (Slightly different, but similar: This gusseted document and laptop holder from Leatherology is also lovely; Cuyana also has something similar!)

Admin note: this post was originally written in 2010 but has been updated substantially as indicated.