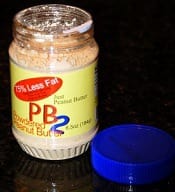 2018 Update: This post on healthy food stuffs to keep in your office is an old favorite — do check out our most recent roundup on 40+ snack ideas for work, too.
We've done the toiletries, the clothes, and the gadgets — now it's time for Corporette's suggestions for food stuffs to keep at the office.
Many of you will be asking, what do you mean? Why would I keep food on hand? What about all the long, "power" lunches I grew to know and love over my summer experience? If not, I know of some great little inexpensive restaurants — sandwiches and sushi, really! — where I expect my friends and I will be pow-wowing during the day…
Yeah… here's the thing:  When you're busy, half the time you won't have time to eat. And when you're not busy, no one really wants to prolong a stay at the office any more than necessary, so you do your work and get out as soon as you can. That said, it's handy to keep some foods at the office — healthy, low-calorie, filling foods — so that you can nosh while working and not get stuck raiding the cracker closet for food. (This is the glamorous life, right?) Note that this list was written on the assumption that you do have ready access to hot water, but not necessarily a readily-accessible microwave.
1. Peanut butter. If this isn't a "problem" for you, it's a great thing to keep around the office. Spread some on crackers like saltines, and you've got protein, fat, healthy oil, and you should stay satiated for at least a few hours. If portion control is a problem for you, you can keep things like PB2 Powdered Peanut Butter in your office and only make as much as you want.

2. Bars. We highly recommend finding a a low-calorie, high-protein, high-fiber bar that you enjoy eating. Meal replacement bars (200 calories plus) never really seem to fill us up, and the low-protein bars — such as granola bars — are kind of like eating a cookie for lunch. Our preferred picks:  Gnu Foods bars (extremely high fiber and high protein for only about 130 caloreies), PowerBar Pria Bars (we like mint), or, if you're really craving something dessert-like, the Glenny's 100-Calorie Brownie. Vita-Tops are also awesome, but require a freezer handy — if you have one, we highly recommend.
3. Oatmeal. This doesn't have the protein or fiber of a lot of the things recommended above, but it has a warm, cozy, filling feeling — and it's the closest a busy woman can get to comfort foods a lot of the time. It also smells wonderful. (Be sure to get a box of oatmeal that definitely only requires hot water.)
4. Nuts. Portion control can be a problem here, also, but if you can keep nuts around they really are a power food. Go for nuts that are as close to natural form as possible — avoid things that are roasted, salted, processed. Raw almonds are, some will say, "the king of nuts," and available via Fresh Direct and other health foods. If portion control is a problem you may also try pistachios or peanuts — in their shells. Everybody's Nuts! makes some great portion-controlled bags of pistachios, available at Jamba Juice, health food stores, or via the internet.

5. Instant noodles. There are a ton of options for meals that can be heated by the microwave — from EasyMac to LeanCuisine — but it's harder to find ones that only require hot water to "cook." In general, these things won't fill you up, but they are a nice alternative to the bars and other things mentioned above. We like Choice Ramen (an update of the classic that now has less sodium and calories) and Thai Kitchen noodles.
6. Raisins. Dried fruits can be a bit too much like candy, which is why we like the old standards — raisins and dried plums. They may not be "sexy" fruits, but you can keep them in your bottom drawer and a handful from time to time will help you feel like you got your fruit in for the day.
7. Emegen-C. When your energy is dragging — or you feel a cold coming on — or you need some extra pep before heading out for dinner or drinks with friends, we swear by Emergen-C. These lemonade-like packets contain only about 5-25 calories, but pack a wallop of vitamin C — more than 1000% of your daily requirements. Just add water, and you're good to go. We recommend the super-boost ones, such as Emergen-C Super Energy Booster Lemon-Lime
8. Canned tuna or salmon. We highly recommend going to the office kitchen to drain the cans first and dispose of them (or else your office will smell of tuna for a week!) but with a packet of mustard or mayo mixed in, these healthy fishes are great eaten with crackers or by themselves. Of course, be sensible about potential mercury poisoning and don't eat them too often. (If you're unfamiliar with canned salmon, be sure to get cans that contain skinless and boneless salmon.)
9. Cereal. This is another great thing to keep at the office — either to keep a high-fiber cereal to mix into yogurt and oatmeal, like Fiber One — or to keep a favorite cereal from college or childhood, like Cap'n Crunch. Steal some milk from the fridge intended for coffee, and you've got a meal.
10. Pudding. It's a little-known trick, but if you bring in a box of Jell-O Instant Pudding, you can mix 1 heaping Tbsp with 1/2 cup skim milk, let it sit in the fridge for about 60 minutes, and enjoy a single portion of office-made fresh pudding. Is it a meal? Not really, but it is a dairy serving — and it's yummy.
Final $.02:  When all else fails and you're unable to leave the office and need to eat something before you pass out, try for a Snickers bar or peanut M&Ms — they're not, strictly speaking, health foods, but the nuts in them will keep you full longer.
Dear readers, are we missing any favorites? What kind of foods do you keep in your drawers to nibble on throughout the day?