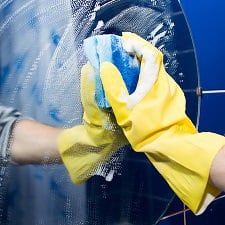 2018 Update: Links have been updated below; you can also check out our latest discussion on green cleaning products that actually work. 
Do you adhere to a cleaning system for your home? Have you hired a cleaning professional or cleaning service? And — if you only have 3 minutes to clean your home before a new visitor walks into your home, what do you clean? 
We've talked before about the wonders of hiring a cleaning professional, and talked about our general cleaning systems and methods before — but something we've never talked about is total last minute cleaning. As in, "I wasn't expecting my friend to come over after dinner and now I have two seconds to run in and make the place look vaguely presentable!" quick cleaning hit list. (I'm half-remembering a quote from Working Girl where Harrison Ford's character warns Melanie Griffith's character that if it's a day or two before his cleaning professional is due to come, it can be pretty bad…. I totally agree!) I've adopted my own systems, and read some other things, so I thought it might be an amusing conversation today. (Pictured.)
Given limited time, I clean:
Whichever bathroom sink a guest might use (if you only have one bathroom the answer is clear!)
The toilet in that bathroom (and a quick Lysol wipe of the toilet seat, too)
If time permits I wipe the bathroom mirror down if it needs it
If time permits I put any dirty dishes in the sink instead of the counter
I read in Apartment Therapy years ago that you should dust your TV at the last minute, but I often feel like with toys, shoes and a zillion Amazon Prime boxes sitting around, the TV is the last of my worries — and I'd much rather people know I'm messy than suspect my house is a petri dish.
So how about you, ladies — what does your last minute cleaning routine look like? (I now see that we haven't really talked in general about cleaning since 2012 either — so let's discuss! Do you have a cleaning professional come on a regular basis? How often, and how did you find him or her? (Any tips on cleaning for your cleaner — organizing everything so surfaces are clear enough for them to be sprayed and cleaned?) Do you adhere to the Fly Lady system or anything else? If you have roommates or a partner, do you like the current division of labor or do you feel like it's a work in progress?) Another fun topic we haven't ever discussed — do you have a similar "cleaning quick hit list" for your office if your office is on the messier side? (2017 Update: whoa, this Buzzfeed video is pretty awesome too, although it's more like a "thorough last minute cleaning" than "quick," but hey.)