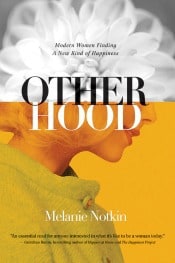 Are men not interested in career women? I'm thrilled to introduce Melanie Notkin, founder of the site Savvy Auntie, and author of the new book,
Otherhood: Modern Women Finding a New Kind of Happiness
.
She describes the book this way: "
Otherhood
is the story of so many women of my generation, the daughters of the modern feminist movement, who expected to have the social, economic and political equality our mothers didn't have, and surely the husband and children they did. But many of us remain single and/or childless as our fertile years wane." She shared an excerpt with Corporette: 
Jared, a divorced dad friend of mine, asked me to set him up. I acquiesced immediately; he's a nice-looking man, early forties, works in commercial real estate. I was sure he'd be a good match for one of my friends, so I asked him what he was looking for. He prefers tall brunettes, he told me, and someone, he added, who is "down-to-earth." This remark was curious to me. What did "down-to-earth" mean? Did he want someone who's charitable? Someone who wasn't materialistic? Someone who was sincere? "I mean," he explained when I pressed, "I don't want someone with a fancy career like, you know, a doctor, a lawyer, or like a PR person. I want a teacher or social worker type." Oh, I thought immediately. He wants someone who won't threaten him. "Fancy careers" were only for men, it seemed. It begged the question: Are so-called career women really not interested in men, as is so often presumed, or are some men simply not interested in "career women"? Joanna is thirty-eight, never married. She tells me she's recently had a career change. "When I was thirty-two, I was on the partner path," she explains, "but I was working day and night and rarely dated. It's not that I didn't want to date, but the men I met weren't accommodating of my schedule. They'd get frustrated if I had to break a dinner date because I was still at work at 9:00 PM, implying I was trying to prove myself, or that I didn't care about the relationship. Worse, some men weren't interested in dating me, simply because I was a corporate attorney. How was I supposed to know when I went to law school that my biggest battle would be proving that I'm just a girl who wants to be a married mom? I knew that if I wanted to get married and be a mom, something had to give." At thirty-two, Joanna gave up her career path and took a job in legal marketing at the same firm. The partners were disappointed in her, telling the want-to-be bride that she was being groomed to become a partner one day and that she was giving up too much. They would have understood if she were a new mother, but the male partners could not understand why she, as a single woman, would take a step down. "It was more like ten steps down!" Joanna exclaimed. "I gave up more than 50 percent of my annual income and settled into my new role. But the men I met were still not satisfied. I couldn't find a man who challenged me the way my work used to. I missed being an attorney, and I was envious, watching my colleagues move up to bigger cases. But I held steadfast to my decision. I truly believed I was making the right choice. So here I am at thirty-eight, almost thirty-nine, still single, still not a mom." Joanna made the decision last month to get back onto the partner track at the firm. "If I'm going to be alone, which I still hope I won't be, at least I'll have a big apartment and a walk-in closet to show for it! You know, Melanie, they talk about 'having it all,' but when it came to my career, I had it all, and I gave it up to have all the other stuff, too. So now I'm back to having it all right now."
Excerpted from
Otherhood: Modern Women Finding a New Kind of Happiness
, by Melanie Notkin. With permission from Seal Press, a member of the Perseus Books Group. Copyright 2014.
Readers: Does this excerpt ring true for you? Have you ever dated a guy who seemed intimidated by your career, or one who didn't understand the demands of your job? Does the concept of  the "Otherhood" demographic make sense to you?
—————
N.B. PLEASE KEEP YOUR COMMENTS ON TOPIC; threadjacks will be deleted at our sole discretion and convenience.
These substantive posts are intended to be a source of community comment on a particular topic, which readers can browse through without having to sift out a lot of unrelated comments. And so, although of course I highly value all comments by my readers, I'm going ask you to please respect some boundaries on substantive posts like this one. Thank you for your understanding!
We are a participant in the Amazon Services LLC Associates Program, an affiliate advertising program designed to provide a means for us to earn fees by linking to Amazon.com and affiliated sites.