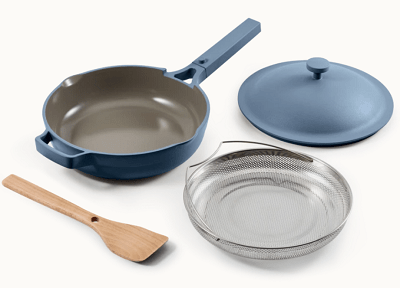 When I saw that there was a limited edition blue color of that pan that everyone is raving about, I put it on my Christmas list because, well, why not? So here's my Our Place pan review!
I will first note that I'm not an expert with pans — my fanciest of pans (All-Clad copper core) pretty much go entirely unused because my husband and I are used to cooking with nonstick-coated pans like this Tramontina. I've been adding a cast iron pan here or there as needed, but those pans are so dang heavy that we only pull them out if we definitely need something to go from stove to oven or if the recipe suggests it.
So right away there are a few obvious pros with the Our Place pan — for one, it's super lightweight. Much more lightweight than the Teflon-coated pans, and it is nooooo contest compared to the cast iron pans. It's also as non-stick as the Teflon-coated pans, much to my surprise. It's really easy to clean, too.
If you're wondering what the nonstick coating is, this is from the product page (it is very shiny and is NOT Teflon, for sure): It's an "exclusive non-toxic, nonstick ceramic coating made without potentially toxic materials like PFOAs, PTFEs, other PFAs, lead, cadmium, toxic metals, and nanoparticles.")
The HUGE pro, though, is that it really does take the place of a lot of different pans — from the product page, they promise it will replace your "fry pan, saute pan, steamer, skillet, saucier, saucepan, non-stick pan, spatula, and spoon rest." I've already eagerly reached for this pan for about half of the recipes I've made since getting it — the non-stick surface makes it easy to brown some meat, but I could also use it to reduce some broth. If you've got limited cabinet space (or are planning a trip to an Airbnb or other situation where you might want to bring your own cookware), this would be a great option.
The only major con I can see (aside from the relatively expensive price) is that the pan is not designed to go into the oven. But for everything else this really is a great pan. I recommend!
The Our Place pan sells for $145 and comes in 6 different colors at the moment. The bamboo steamer comes with the current bundle offer.
What are your favorite pans and cookware, readers? We just had a conversation about kitchen counterspace…
This post contains affiliate links and Corporette® may earn commissions for purchases made through links in this post. For more details see here. Thank you so much for your support!
Workwear sales of note for 9.24.21…