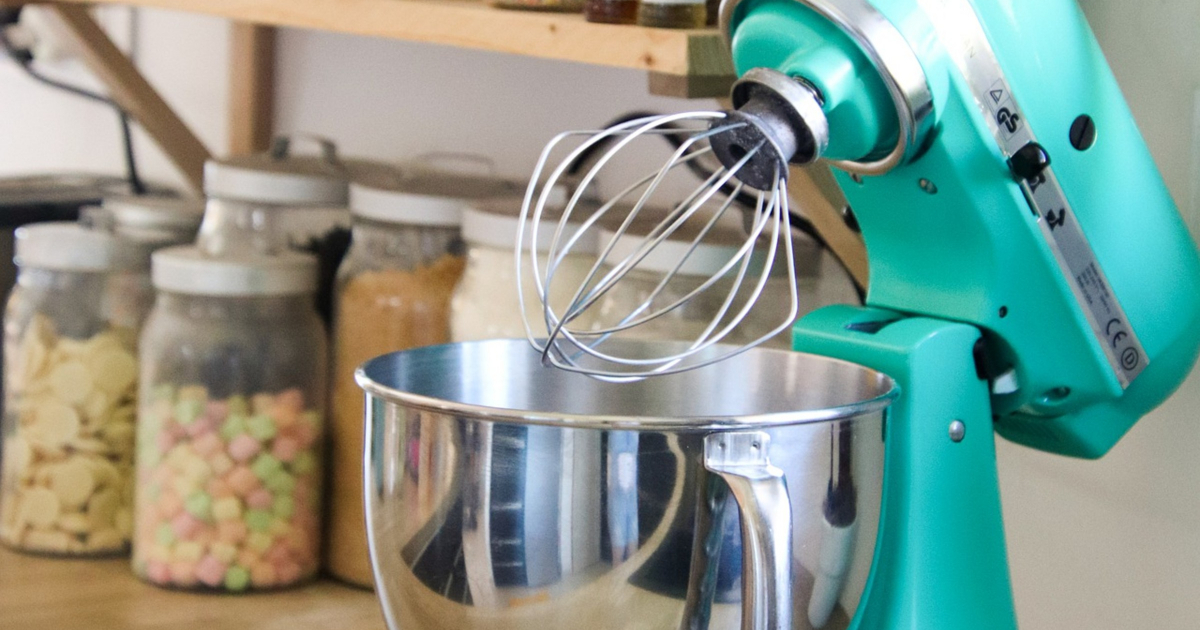 Auntie M and I were texting recently about baking-related things (fine, the flour + Greek yogurt kind of baking) and she mentioned that she found the dough easier to mix with her KitchenAid mixer. WHOA, I said — I have often been curious about getting one based on reader conversations here, but I've never felt like I could commit the counter space to it — and it seems rather unwieldy to put away and take out only when you're using it. So: we don't have a KitchenAid mixer.
I was thinking it might be a more interesting discussion at large, though (and possibly yet another source of gift ideas): What do you keep on your kitchen counter? What has earned the space, what gets used the most? Do you have any regrets?
Here at Casa Griffin we keep:
convection toaster oven — This was my huge game changer years ago; I love how it makes toast but also is a broiler and regular oven — we've made casseroles in it. We've never gotten an air fryer because all of the reviews say the best air fryer is a convection toaster oven. (Here are my further thoughts on why I love convection toaster ovens…)
coffee maker — I think our current one is a 12-cup Cuisinart with a thermal carafe. We keep our huge canister of Folgers right next to it because, obviously, we're fancy.
dish rack for clean dishes — I wish there were a fancy option for this, but not only have I never seen a sleek/interesting version, but the one I have from post-college era has like 2x as much space as anything else I've seen.
a cooking utensil holder for spatulas and things (like these)
a large pretty bowl for potatoes and onions (and on a different counter) one of those wire bowls for fruit
a charging station (which could be much fancier, honestly)
a little cake stand with some often-used spices on it (the smaller of these two that I got in one of the big Nordstrom sales)
A Sodastream maker (here's my Sodastream review; Target has lots of them on sale today)
a WiFi "friendship lamp" from Uncommon Goods (pictured below) — we touch it and it lights up at the grandparents' house 300 miles away (Amazon also has them)
knife block — I don't have regrets but I would also be open to moving that to a drawer or something
digital scale on top of the knife block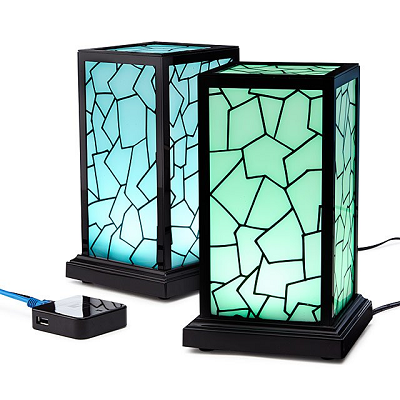 If our kitchen were 100% clean, all of those things would still be on the counter because that's where they "belong." Of course, our counters are never clean and we inevitably have kids' artwork supplies and spices from like three meals ago and various non-refrigerated syrups and bags of dried cherries and things on the counters… but in theory they "live" somewhere else.
How about you, readers — what's on your kitchen counters? What's earned a spot; what do you use really often?
Stock photo (teal Kitchen-Aid mixer) via Stencil.