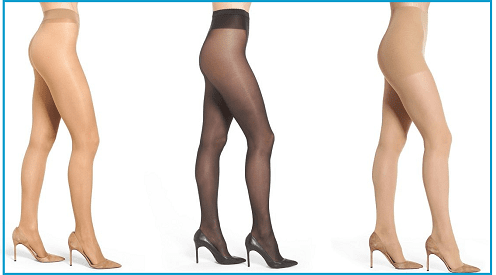 2023 Update: Hunting for pantyhose for work? These are some recent reader favorites! one / two / three
Do you have to wear pantyhose in the summer? The pantyhose-at-the-office question comes up so often, but I don't think we've addressed it in a while — and Reader N wonders…
I had a question about wearing pantyhose. I'm about to start my first internship in finance (a mid-sized hedge fund) this summer and I'm really confused as to what to wear. It'll be in London, so I don't know if that changes business formal guidelines. Anyway, I'm 20 years old and a southern girl, and I've never worn pantyhose in my life. Is it really necessary to wear pantyhose with a skirt suit, even in the middle of July? I'm tempted to just wear a pant suit the first day and see what everyone else is wearing, but then I've heard people say that pantsuits aren't conservative enough and I should wear a skirtsuit the first day just in case.

Obviously, I have no idea what I'm doing. Oh dear.
Congratulations on your summer internship — it sounds excellent.
There is a really big range in what's acceptable at conservative offices, and so — for my $.02 — it's always best to get started on the right foot, which is to say the safest foot.
You don't want people's first impression of you to be of your clothes — you want it to be of your work, your accomplishments.
So for the first day — probably even the first week — I would suggest wearing:
Skirt suits (at least for the first day)
Nude-for-you pantyhose (see our favorites above)
Closed toe shoes (see our favorites below)
Sleeves, if you're not wearing a blazer
You may realize pretty quickly that your female bosses all wear skirts without hose, and after that point you have my go ahead to ball up your pantyhose and pack 'em away until interview season. Similarly, after a few days of observation, you may feel confident in bringing out your peep-toes and your sleeveless dresses. But the point is that you have to know your office.
How to Wear Pantyhose in the Summer (If You Have To)
Now, if you do get stuck in a firm where you have to wear pantyhose all summer… there are a few things you can do to make the summer go more comfortably.
– If there's a problem with your hose (they fall down, they run, they cling to your skirt), odds are that you just haven't found a great pair of hose for you yet. In our poll on pantyhose colors for interviewing, readers sang the praises of everything from Jockey to Wolford, so you don't necessarily have to spend a lot of money; you just have to find a great pair that works for you.
Personally I've always been a fan of control tops (even when I didn't need the control) because the hose stayed up better, but that's me — Spanx even has a higher-waisted version to prevent rollover.
If you constantly feel sweaty while wearing your hose, first switch to all cotton underwear. (A reader asked me once if you needed to wear underwear with hose, and my answer there is yes — I'm not an expert but going commando in hose sounds like a recipe for a yeast infection.) If that still doesn't work, you may want to look into thigh-high hose — a lot of women prefer those, particularly in the summertime.
– You may want to review my older advice on how to care for your pantyhose (as well as how to put them on).
Psst: As of 2022, some of our favorite foundational garments include this line of waist-shapers, these comfy shorts to prevent chafing while wearing skirts without hose, this full slip for wrap dresses and shirt dresses, this half-slip to prevent clinging, these pantyhose, and this bra.
Readers, which are your favorite pantyhose brands? For those of you who wear it even on the hottest days, what is your advice for Reader N?
Psst: if you're looking for body makeup, these are some of our favorites as of 2022…