Reader S wonders about how to take care of tights…
I seem to be having a spell of terrible luck with tights this year – I wear a pair two or three times and then find a hole or a run. I'm willing to pay more for tights that last longer, but I'm afraid I'll just continue to have the same bad luck with a higher pricetag unless I get some guidance. Suggestions?
I think proper tight care could be part of your problem, but it may also be which tights you're buying. 
This post contains affiliate links and Corporette® may earn commissions for purchases made through links in this post. For more details see here. Thank you so much for your support!
As those of you who follow my Twitter feed know, I attended a press event earlier this week where Jenny Altman, the style adviser to Bare Necessities, sang the praises of Commando tights as being the only truly opaque, non-digging tights, as well as the praises of Wolford tights. 
Personally, I've always been a fan of Spanx tights, as I mentioned earlier — they're pricey but worth it!
That said — I've still had $8 tights that have lasted me years, so let's investigate further…
1) Watch your nails — both on your hands and your feet! Even though it's the winter, your toenails should not be jagged or sharp — at the very least, take a file to them and smooth them out.
Similarly, if you have long fingernails, you may want to be very careful when you put your tights on and take them off — tights are more durable than pantyhose, but some of our pantyhose recommendations might be helpful here, as well.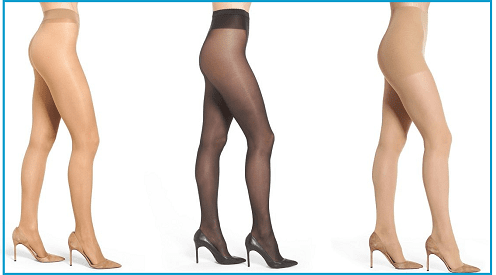 2023 Update: Hunting for pantyhose for work? These are some recent reader favorites! one / two / three
2) Wash your tights carefully. I'll be honest: I don't quite have the energy to launder anything by hand, but if I did, tights would definitely be on the list — they're one  of the easiest items to hand-launder! That said, I usually save my tights for washing with my delicates — with Woolite, on the delicate cycle. Keep them away from bras (I put all of my bras in a lingerie bag) as well as anything else with hooks — if you're not sure what might be in there, put your *tights* in the lingerie bag.
3) Airdry. Please, please, airdry.
Psst: These are some great drying racks…

4) Store them carefully. I like to use a hanging hosiery organizer, but there are also drawer organizers and more.
Readers, how do you take care of your tights? Which brands do you swear by?
We are a participant in the Amazon Services LLC Associates Program, an affiliate advertising program designed to provide a means for us to earn fees by linking to Amazon.com and affiliated sites.