Update: Check out our most recent round-up of the best knee-high boots for commuting to work, as well as our last discussion of whether boots are acceptable for work.
We haven't done a poll on this in a while, so here's the question of the moment: are tall boots ever acceptable for a conservative office? We're seeing lots of over-the-knee styles available at surprisingly respectable places like Saks, and obviously engineer boots, cuffed boots, and more are regular weekend wear. But what about for the office?
To us, this is one of those things that a young woman can't be too cavalier about — if you want to be taken seriously, avoid clothes that will make some people joke that you're a "dominatrix." After all, if Condoleezza Rice can take flack (from a female reporter, no less) then we would say that these should be strictly off-limits for a conservative office proper. (If you want to wear them for commuting purposes or with pants, we think, have at it.) We might also argue that this is perhaps the dividing line between a casual office and a conservative office — in a casual office you can get away with more fashionable, trendy pieces. But that's just our $.02, obviously — what are your views, readers?
Pictured: Nine West Women's Iwas Boot, available at Endless.com in half-sizes 5-11 for $104.47 (were $190).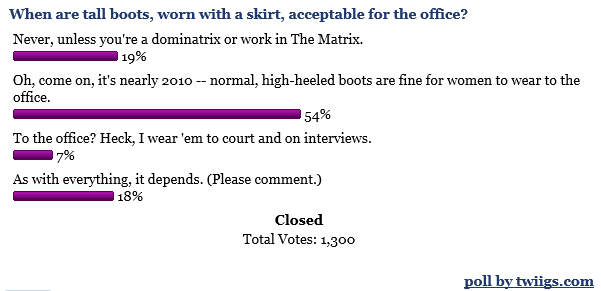 Some Of Our Favorite Latest Boots
Hunting for black knee-high boots? Here are some of our long-standing favorites as of 2023!