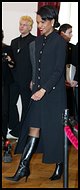 2017 Update: Check out our most recent round-up of the best knee-high boots for commuting to work, as well as our most recent discussion on what boots to wear with tights to work. 
Can you wear knee-high boots to the office with a skirt? Reader B wonders…
I live in DC and work in the public interest world.  I love wearing boots in the winter and when there is inclement weather.  I have two very nice pairs, one which is ankle-length and has a nice looping strap and buckle and the other that is nearly knee-high and has a four inch heel and some great detailing.  They are both fairly formal looking.  Is it appropriate to wear these types of boots to work?  Would it ever be appropriate to wear the tall ones with a knee-length or slightly shorter skirt or dress (as opposed to wearing work slacks over them), and in that instance would tights or leggings be appropriate?
Regarding the ankle length boots, I'm going to say that while I've heard from some readers who think all ankle- and mid-calf-length boots are hideous (I love 'em, so I'm not in that group), I've never heard anyone say they're inappropriate for the office.  Wear 'em with pants all you want; I've even seem some women successfully pull them off with skirts and opaque tights that matched their boots exactly.
Regarding the knee-length boots, now… that's a more interesting question.  It was only a few years ago that the fashion writer for The Washington Post reacted with horror to an outfit Condoleezza Rice wore that involved black knee-high boots, ultimately calling her a dominatrix.  As she wrote:
As Rice walked out to greet the troops, the coat blew open in a rather swashbuckling way to reveal the top of a pair of knee-high boots. The boots had a high, slender heel that is not particularly practical. But it is a popular silhouette because it tends to elongate and flatter the leg. In short, the boots are sexy.

Rice boldly eschewed the typical fare chosen by powerful American women on the world stage. She was not wearing a bland suit with a loose-fitting skirt and short boxy jacket with a pair of sensible pumps. She did not cloak her power in photogenic hues, a feminine brooch and a non-threatening aesthetic. Rice looked as though she was prepared to talk tough, knock heads and do a freeze-frame "Matrix" jump kick if necessary. Who wouldn't give her ensemble a double take — all the while hoping not to rub her the wrong way?
It's a great article by Robin Givhan and one that has to be read.  To be honest, when I first read it — way back when in 2005 — it seemed a bit much.  My personal delineation line for the "too sexy" boot had always been the knee:  if it hit under the knee you were stylish; if it hit over the knee then hey, at least you had a place to store stuff while you worked the streets waiting for Richard Gere
.  But not everyone is on the same page with that delineation.  For example, I remember having a discussion back in law school with a friend of mine (with a tongue ring, mind you!) who asked me if I thought knee-high boots were hooker boots and unacceptable for the office.
Maybe these reactions alone are enough for any professional woman to say, "You know, why chance it at the office?"  In fact, that's still my advice: wear your knee-high boots all you want outside the office, but really think twice before wearing them in the office.  Even though these two conversations were a few years ago, there are plenty of people who form an opinion on what is and is not appropriate for the office when they start working — so unless your boss has been working for less than 7 years, there's a significant chance he or she might think tall boots are inappropriate for the office.
But perhaps knee-high boots have come a long way since then. So here's the question: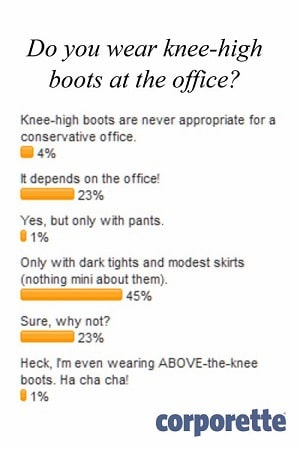 I'm curious, readers — what are your thoughts about knee-high boots at the office?