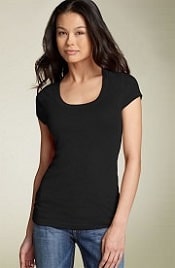 Last week, we asked whether t-shirts could be worn under suits — and if so, if they needed to be fancy. As always, the poll continues, but the initial results are in:
– 55% said a simple, classic, and mundane t-shirt was fine to wear under a suit (similar to the one pictured)
– 34% said it should be a little fancy — satin detailing, a nice fabric, a rich color, etc.
– 5% said it made no difference what kind of t-shirt as long as the suit buttons up
– 3% said t-shirts weren't acceptable to wear beneath suits, ever.
Pictured above: Organic cotton Halogen Scoop Neck Tee, available at Nordstrom for $22 (or, two for $35).
Surprisingly, a lot of commenters sang the praises of Target t-shirts — we'll have to remember to check those out.