Last week, we were surprised to see comments saying that a t-shirt is not appropriate to be worn beneath a suit, and we thought, a) perhaps we're talking about different things, or b) perhaps we're terribly wrong. So we thought we'd explore.
For our $.02: Agreed, agreed, you can't wear a Yeah Yeah Yeahs concert shirt beneath a suit, nor can you wear the kind of v-neck from the Gap that you would paint a garage in. And of course, a silk or cashmere sweater or button-down shirt is preferable. But, we would say that a "dressy" cotton t-shirt like the ones we linked to that day, or very classic tees in a thick cotton or machine-washable fabric (e.g., a crewneck without a ribbed neckline), are totally acceptable to wear beneath a suit, particularly in a solid color like white. Our reasoning here is that we've just never studied another woman's clothing that closely beneath her suit. Is it too tight? Too sheer? Too old-school rayon shell-like? If it isn't any of those things and the suit looks good, the top generally fades into the background. It's there to provide the woman with an option to take off her jacket if she needs to, but — as we've said before — we generally think you should keep the jacket on if you're roaming the halls or going to meetings. In addition to being acceptable, there's a benefit — if it's machine-washable, it makes a working woman's life that much easier.
But enough of our two cents — what do you guys think?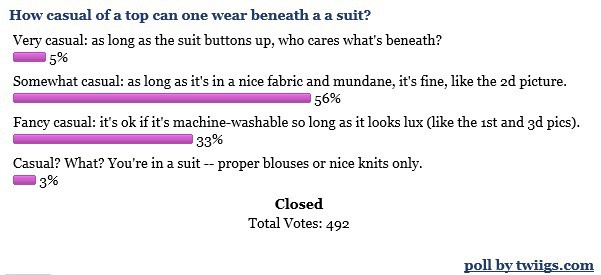 Psst: Check out our guide to the best tops under suits!