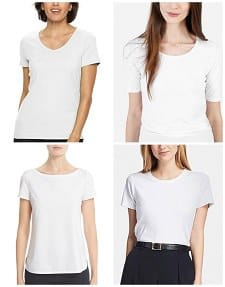 One of the questions I often see readers asking and discussing is the hunt for the best opaque white t-shirts — and really, why is it so hard to find a t-shirt that isn't see-through? I thought I'd round up some of the best suggestions I've seen over the years…
First, what to wear with opaque white t-shirts for work: I definitely recommend wearing a nude-for-you t-shirt bra (Naja is the brand with the most skin-colored shades I've seen; Nubian Skin also has three shades for darker skin tones); if you need to layer a camisole I'd probably go for a shade that best matches your skintone in a slightly silky fabric so it doesn't cling to your t-shirt. (I can only find beige camisoles to recommend — if anyone has any favorite camisoles in a range of skin tones, please let us know.)
Pictured, clockwise from V-neck in top left corner: one / two / three / four
This post contains affiliate links and Corporette® may earn commissions for purchases made through links in this post. For more details see here. Thank you so much for your support!
Opaque White Tees in Regular, Petite, and Plus Sizes:
There are so many options in this range, I'll split the post by putting shirts that only come in "misses" sizes at the bottom of the post; everything listed in this top section comes in a wide range of sizes.
Talbots' Platinum Jersey line — because they're double-lined in the front (but not the back), this may be a great option if you plan to wear it with a cardigan or blazer — but not so great if you want to wear it by itself. Right now it looks like they only have longer-sleeved versions. Readers also swear by their Pima cotton line (a common thread throughout a lot of these suggestions!).
LL Bean has always been mentioned by the readers, noting that they're not fancy but last and last and are very opaque. This elbow-sleeve one or this envelope-neck version looks like they might be nice enough to wear by themselves at work, but they also may be on the "frumpy" side of the spectrum. This is their more casual plain Pima Cotton shaped version; in general I'd stick with the Pima Cotton versions (reviewers of the more stylish West End shirts note that the white tee was see-through).
On the super-affordable end of things, readers have sung the praises of Kohls' Croft & Barrow Essential tee line — but do note that reviewers seem split on whether it's see through or not. They're on sale for $7.99 today, though, so the price is definitely right.
Other T-Shirts That Aren't See-Through
Further reading:
Readers who like to wear white t-shirts to work: what is your favorite brand? If you layer something beneath them, are you a fan of nude-for-you camisoles or white camisoles? (I'm normally on the team of "your camisole should match whatever color your shirt is" but for an opaque white t-shirt I might go with nude for you.) What are your favorite ways to style a white tee for work?
Social media image credit: Deposit Photos / racorn.