Hopefully, no one thinks that miniskirts are a DO for the office. (See our prior poll on this here and here.) But a reader posed this question in comments, and we think it's a good one: does a time come in a woman's life — a serious, professional woman's life — at which it is no longer acceptable to wear miniskirts at ALL? We thought we'd run a poll and see.
For our $.02: As long as we're not wearing it to the office, we think a woman should be able to wear whatever she wants. We recognize that a woman may feel too "old" for certain things — we're almost starting to feel that way about our beloved Converse sneakers on the weekends, and we haven't had our hair in pigtails in at least five years — but we're not sure that's a good feeling to give in to. Still, what are other people's thoughts?
Photo credit: Juicy Couture Basic Cashmere Sweater Dress, available at ShopBop on sale for $230 (was $328).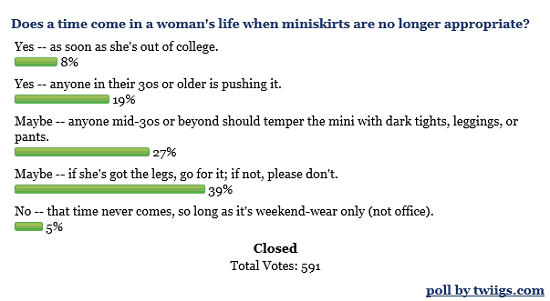 As for our reader's question on how short a miniskirt is — our answer would be that it changes with age. We remember at our first job out of college, a colleague suggested we not wear skirts that were shorter than our fingertips. But look at the model, above! She's wearing a skirt that short! Honestly, we look at the picture and wonder what sort of pants she'll put on when she finishes getting dressed. (Jeans and cute boots, we hope.) At this point (we're in our early 30s), to us a mini-dress is anything we wouldn't wear to the office because it's too short. Readers, please weigh in — how short does a skirt have to be to qualify as a "mini"?