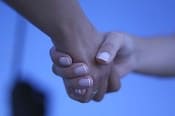 What should you do if you're feeling envious of a colleague who's younger than you, seemingly unappreciative of the opportunity you're giving her, and also — in your opinion — inappropriately flirty at networking events? Reader J wonders:
I'm a 40 yr old business development manager at an engineering firm. I've formed a group of female colleagues that helps with networking and business that's getting notice in my city (like a Stiletto Mafia). A few months ago one of the key ladies in my group invited my junior engineer in my firm to join.

This engineer is funny and smart but also a gorgeous 24 yr old. Now I am torn between wanting to be a mentor and jealousy. I am jealous that she has access to this group of high powered ladies that are my friends and doesn't seem to grateful that I'm including her. This engineer also occasionally helps with networking. It's frustrating to attend a business event while these men are flirting with her. She isn't overt, but she is aware of her looks and plays them up.

I'd like to drop her from the group and ask her to focus on current clients vs networking. Am I being a hypocrite?
I think you're being honest, Reader J — a lot more than most people would be in person. I don't think this is unusual, though; I think a lot of younger women alienate good mentors by being too entitled (like the reader who expected her boss to help her network) or arrogant at work, or, here, too focused on other parts of life like flirting. (We have offered some tips in the past on how to network with older women that may help younger readers here!)