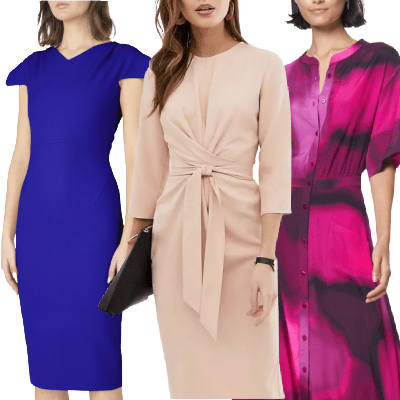 Sure, we all know what wardrobe essentials for work professional women are supposed to have in their closets, but if you're buying one for the first time or replacing one you've worn into the ground, it can be a pain to find exactly the right incarnation in stores. In "The Hunt," we search the stores for a basic item that every woman should have.
Readers had an interesting conversation a while ago about how if they only go into the office rarely they don't want to be in "basic law student interview garb" — and instead were on the hunt for statement dresses for interviews, important meetings, and more. Challenge accepted! After a bit of hunting for what to call these statement-making dresses, let's go with "power dresses," even though that feels maybe a few years ago. (What else would you call these kinds of dresses, ladies?)
I'll include links to some of our more basic sheath dress roundups and the like — you can always add accessories like blazers, necklaces, sweaters and more to make them more interesting! — but if you want more interesting dresses for the office, let's go on a hunt.
(First, let's all bow a head to one of the OGs here: Claire Underwood. We never did a roundup but if anyone else suffered through Seasons 6 and 7 of Younger, I also think of Quinn Tyler.)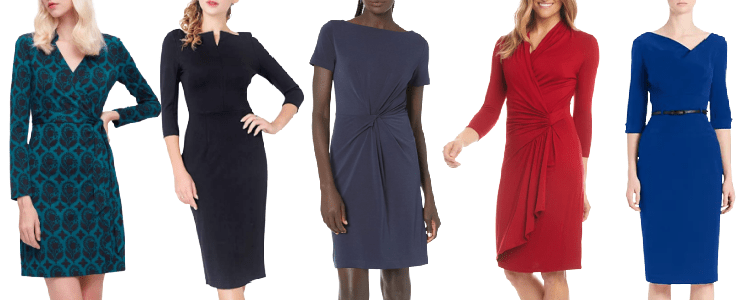 In addition to some Hall of Famers above, we definitely have some usual suspects — if I were on a hunt for a standout, power dress for work I'd check MM.LaFleur, Diane von Furstenberg, Black Halo, and Karen Millen. On the (much) higher end I'd check Roland Mouret, Akris, Victoria Beckham, and Chiara Boni La Petite Robe.
Readers, how about you — where would you start your hunt for a statement-making power dress for work?
Classic Dresses for Work You Can Dress Up or Down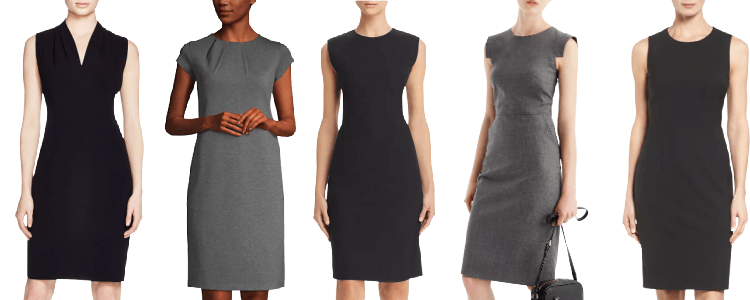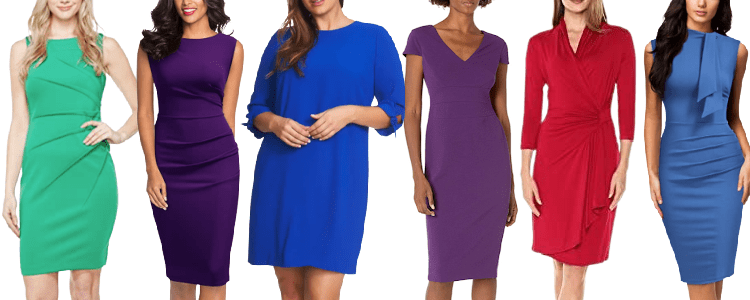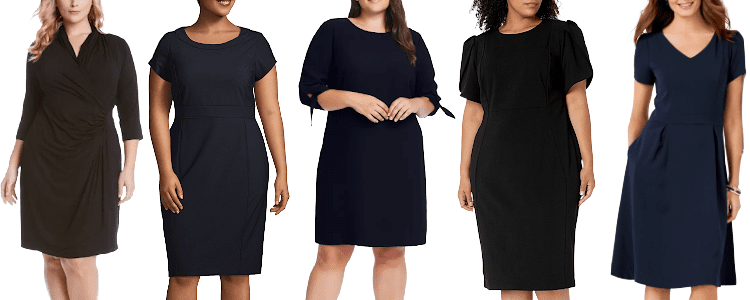 Power Dresses for Work: One & Done Statement Dressing
Origami-Like Dresses
I tend to love dresses like this with lots of interesting folds and tucks, as you might have while folding an origami crane. I love these because they're usually pretty easy as they're usually a faux wrap.
The pictured one is from ASOS (and only $54!!), but I'll round up a few others below…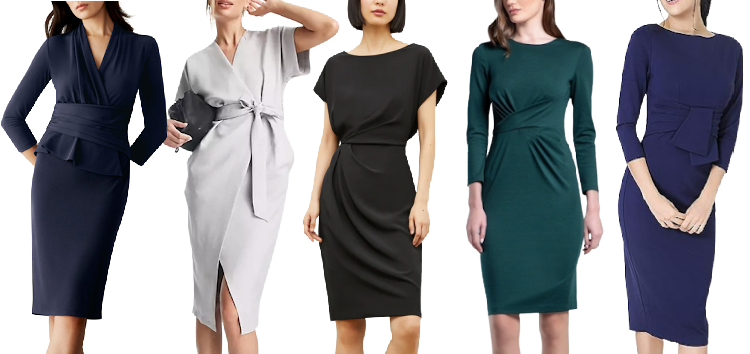 Architectural and Structured Power Dresses
I always think of this kind of dress as "architectural" in that it feels like more design work has gone into it in some way — prominent darts that are meant to be seen, or a detail that feels extra sharp. I'd even include J.Crew's Resume Dress here.
The one above is Roland Mouret (GORGEOUS) – but a few other options are below.

Asymmetrical Details on Power Dresses for Work
Here's a fun fact about me: despite writing the word "asymmetrical" like weekly for almost 15 years now I still can't spell it.
STILL: One of my favorite ways of statement dressing for work includes asymmetrical dresses (and tops) that make everything feel a little fresh and new.
Many times these dresses will feature cutouts or slashes/keyholes in interesting places — just remember to know your office here! I would caution that "unexpected skin" may not go over well at many offices, to which I would include the usual areas (cleavage, upper thigh) but also your lower back, your midriff, and more.
One of the classic asymmetrical power dresses is the Black Halo Jackie dress; Of Mercer has a great version as well. A few others are rounded up below.

Wrap Dresses
These are classics, and for great reason — but definitely wear a slip beneath them the first time you wear them if they're a real wrap (instead of a faux wrap). The DVF wrap dress is still around (pictured); the rumor last time was to size up at least one size to help them wrap more tightly. Other favorites we've mentioned over the years include Kiyonna and the faux wrap dress from Karen Kane. (On resale sites keep an eye out for BCBG and DVF wrap dresses.)
A few other cute wrap dresses on the market right now include these…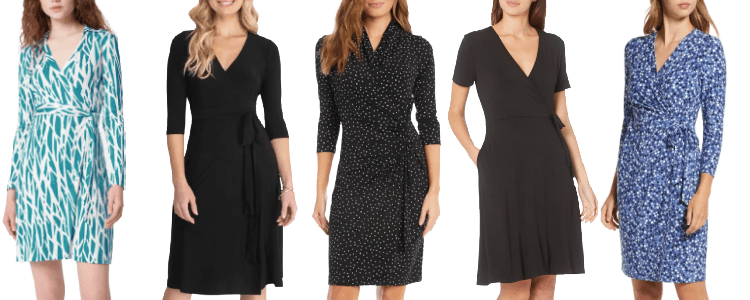 As of 2023, some of our favorite wrap dresses for work include 1) the classic DVF* (also look on resale sites!), 2) Kiyonna*, 3) Karen Kane*, 4) Amazon Essentials*, and 5) Anne Klein (* are available in plus sizes!).
The Shirt Dress
I'm not a HUGE fan of these since personally I feel like they're less flattering on curves and you often have to deal with gaping issues. Definitely consider wearing them with a slip the first time you wear one (this slip looks great), and do check out some of our DIY solutions for gaping.
The dress pictured above is from The Kit; check out other options for shirt dresses below.

Readers, what are your favorite power dresses for work — for days when you don't want to wear a suit, but want to make a statement?
Like this feature? Check out other recent installments!