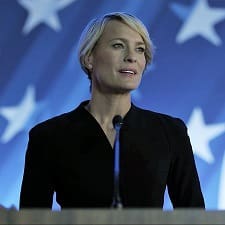 A lot of women have taken major workwear inspiration from Robin Wright's character in Netflix's series, House of Cards — so today we thought we'd take a deep dive on how to get Claire Underwood's style.
(Psst: curious for more workwear inspiration from TV, film, and beyond? Check out our look at Selina Meyer's style secrets (from Veep).)
To me, the scene that says everything about Claire Underwood is in Season 4, when she comes home from her trip abroad to find her husband recovering from surgery — instead of putting on something comfortable and climbing into a bed to sleep, she doesn't unbutton or unfasten a single thing, sits down at the settee at the end of the bed, and falls asleep, 4″ heels still on.
Girlfriend is BUTTONED UP, and comfortable that way. She is extraordinarily disciplined, as evidenced also by her fit physique (she runs through graveyards, of course) and extremely tailored clothes.
I've always found her sideswept short hair hard to believe for her character — it would drive me batty to have hair in my face all day — but perhaps the costumer wanted to get as far away as possible from Princess Buttercup waves.
Stay tuned for our upcoming course on how to feel more polished!
How to Get Claire Underwood Style: Wear Black & White
Claire sticks to the basics and wears a lot of black and white.
Workwear Inspiration from Claire Underwood: Pick Classic Skirt Suits

Claire favors classic skirt suits in colors like gray and black. While many of her dresses are crew necks, you see more V-neck looks with the suits.
Claire in House of Cards Style: Choose Interesting Seaming Instead of Jewelry

In general, she wears almost NO jewelry, instead going for interesting seaming or buttons (so many shiny gold buttons in the latest season!) for effect. The three images above show her preference for crewnecks — but note that diamond-effect made by the first and third dresses; it's a very flattering thing the costume designers choose for Robin Wright's body type.
Claire Underwood Style Trick: Go Military
Now, full disclosure: I haven't watched all of Season 5 yet, but I zoomed through Netflix to take some screenshots of this season's outfits. Without giving away too much plot, let's just say that a lot of her outfits, to me, look like they've got a military look — shiny buttons, epaulets, olive/khaki colors, and more. (I think that blue dress with the buttons is hideous (first picture above), but that's me.) (Ha, and I wrote this before the NYT had similar thoughts this weekend.)
Dress Like Claire: Go Wild With a Wide Neckline

The most skin we really see from Claire Underwood is when she opts for a wide neckline, such as in some of the looks above. Again, her lack of jewelry is interesting — I think the pearls in the first picture are the most I've seen her wear.
Claire Underwood's Style Secret: The Cropped Jacket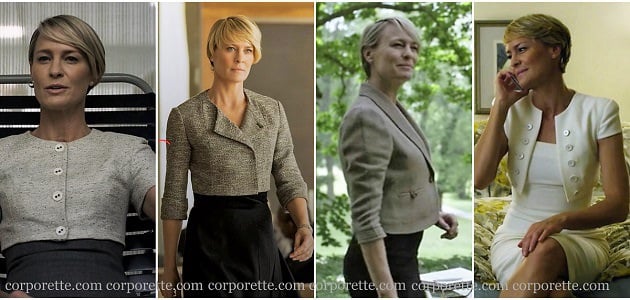 I was… intrigued to notice that Claire has worn a LOT of cropped jackets over the years. I suspect this is the costume designer trying to either a) accent how fit Robin Wright is or b) give her a bit more of a waist, since her body type seems to be more "straight" — but it's interesting to note since I feel like cropped jackets are a bit uncommon elsewhere. (For those of you who hate shrugs for work: What are your thoughts on the cropped jacket look?)
Ladies, what workwear inspiration do you draw from Claire Underwood in House of Cards? Have you been inspired to try to get Claire Underwood style? Which of these style tricks do you already do?
How to Get Claire Underwood's Wardrobe
It really isn't very hard to get Claire Underwood's wardrobe look — but these few dresses and blazers out on the market now seemed particularly Claire-like.