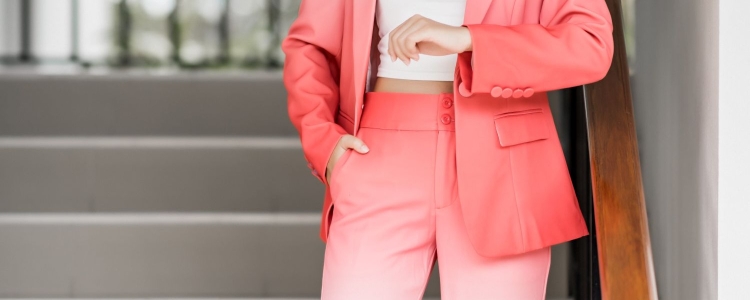 Are colorful pants for work a thing — and how can you style them so they look appropriate in an office setting? Are they for young'uns only? Reader J sent in this question a while ago:
Question – today's trends are to wear colored pants. What are your thoughts on wearing colored pants to an office setting on casual fridays? And, more relevant to me, what are your thoughts on wearing trends such as this if you're over the age of 35?
I am obviously all for colorful pants, and I don't think there's an age limit on them. I'll even make a few arguments in favor of colored pants before turning it over to the readers, because I'm dying to hear what other ladies think.
Update: some of our latest favorite colorful pants for work:
Hunting for colorful pants for work? They're very popular everywhere for 2023 — but note that in general brands like Rekucci, Krazy Larry, Banana Republic, BR Factory Express, J.Crew, and Boden have a ton of options; here's a mini-roundup of what's out there right now:
This post contains affiliate links and Corporette® may earn commissions for purchases made through links in this post. For more details see here. Thank you so much for your support!
Why Colorful Pants are Great for Work
In my mind, the pros to colored pants:
They're often an inexpensive way to add a pop of color to a wardrobe heavily steeped in neutrals (such as, cough cough, black).
They're a nice way to wear a trendy color that doesn't look the best near your face (for example, kelly green makes me look dead, but it's such a lovely color!)
They're great for casual networking events because you stand out (and are easily identified) — "go talk to Jane about that, she's the woman in the blue pants."
This can be both a pro and a con: if you mostly interact with people from behind your desk, colored pants won't be noticed that much.
For my $.02, I tend to prefer to either wear neutrals with pair of colored pants for work (like a black turtleneck and a long plain metal necklace), unless I want to introduce a contrasting color, like wearing orange or pink with red pants — personally I'm not into the matchy-matchy look, but I think that's been true of me since my 20s, so I don't necessarily associate that with age. (It looks like Imogen Lamport's Inside Out Style, a blog I've seen readers recommend a bunch, also has a handy tutorial on wearing colored jeans past age 40.)
Readers, do you think colored pants for work are for younger women only? How do you like to wear them to the office?
Psst: Here are some of our favorite pants that come in basic colors:
Psst2: here are some of our favorite colorful dresses for work…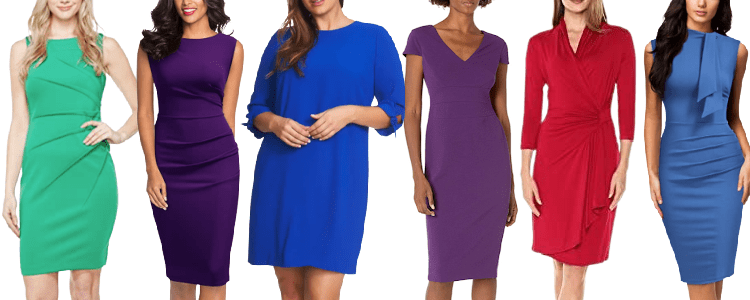 Updated images (woman in a pink ombre suit) via Stencil. Looking for a similar pink suit? If we've featured one recently, it'll be here.