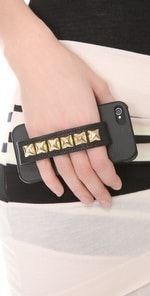 Do you jazz up your iPhone or Android with a fashionable case, ringtones, and more?  Do you think there are pros and cons to doing so?  Reader M wonders what the best iPhone cases are, but I think there's a broader question here.
I am planning on buying the new iPhone but don't know what case to get. I thought a post on the best iPhone cases that are also fashionable would be timely. My current case for my iPhone was inexpensive and it shows. Not only is it falling apart but it essentially makes the flash feature unusable which means taking pictures with it is not an option most of the time. I don't want to make the same mistake the next time around.
Interesting question.  We've talked about the best apps for phones before, but we've never talked about "flair," which I'll use in the same way the movie Office Space uses when referring to the buttons Jennifer Aniston's character is supposed to wear to jazz up her waitressing uniform. 
Personally, as mama to a two year old, my sexy, slim little Samsung Galaxy S4 quickly got covered up in the big, bulky Otterbox Defender case.  Sigh.  But it's been thrown, dropped, and more, and the S4 keeps on ticking.  I was concerned about functionality — in my old Samsung I used two batteries, swapping out one whenever I was running low on juice — the Otterbox generally makes that (and cleaning the phone) a huge pain. Fortunately, the S4 charges very quickly; I also bought an external battery.
In general, though, I think the main considerations for an iPhone case would be:
a) functionality — a case that prevented/inhibited my use of the camera would be a no go
b) protection — phones are expensive!  Even people without toddlers drop their phones and have accidents.
c) happiness — maybe this sounds lame, but if I were to go for a fashionable, fun case, I would want it to make me happy every time I looked at the phone.  Ditto if I were into fancy ringtones.
I think professionalism/appearance DOES enter into this a bit — I might raise an eyebrow if I were working with a young woman who had a Barbie case, or a Miley Cyrus ringtone (particularly if it were playing throughout the day — I've always kept my phone on vibrate when working at an office), but ultimately it's just a tiny personality quirk.  That said, I think they can be a great way to show of your personality — I would definitely think that a woman wearing the iPhone "clutch" case pictured above ($178 at ShopBop) would be a bit edgy and cool.
Readers, how did you choose a case for your phone — what factors did you consider?