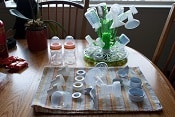 Pumping at work: it's one of the toughest parts of going back to work after maternity leave. In past posts we've covered what to wear to pump at work, how to manage pumping in different offices, pumping during work travel, and how to dress professionally when you go back to work (when your pre-pregnancy clothes still don't fit). Today Reader K gives you some basic tips for pumping at work and recommends a few helpful products. Thank you, K! 
My best friend gave me great advice before I went back to work: The dread is worse than the reality. I was nervous about leaving my little guy with someone I barely knew; I was nervous I would not be as good at my job as I had been before I left for leave; I was nervous that I would sit at my desk missing him all day. Basically, I was nervous about everything.
But now, seven months in, it hasn't been that bad. For the most part, I have managed to focus completely on whatever I'm doing, whether work or home life. That means I am really efficient at work and then don't really check my email once I get home until after my son goes to bed. (Fortunately, we hit the baby jackpot and got a great sleeper.) The hardest part, though, was pumping at work. After reading comments here and talking to my sister and some friends, I got into my routine. (Pictured: breast pump overload, originally uploaded to Flickr by madichan.
Read the rest of the post on CorporetteMoms… (but feel free to comment, on topic, on either page)…