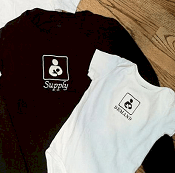 How do you find time to pump if your job involves traveling to lots of different offices? Do you just ask the HR people outright? Blogger / reader Road Warriorette wonders how to handle pumping in a different office…
I am back at work finally, and will be taking my first trip this week. I have a game plan for pumping on the road. But the one thing I can't figure out — how do you ask a client or customer if there is a place in their office where you can pump? Luckily, on this trip my meeting is only three hours so I can avoid the question. But next time I will be on location the whole day, and will certainly need a space. Do I reach out to my contact? An admin? Just suck it up and plan to pump in the bathroom? Am I over-thinking this?
This is a great question. We've talked about what to wear for pumping at the office, but this is a different question — where do you go to pump when you're not in your regular office? It involves your breasts, so it certainly feels personal — you can't very well just say to your male colleague, "Oh, by the way, Jim, while I'm working in the office, is there a comfortable spot for me to take my top off, attach foghorns to my breasts, and make a loud mechanical whirring noise for 10-15 minutes, a few times a day?" (Pictured.)
That said… I think so much has been written about pumping (particularly in regards to female-friendly workplaces) that whatever stigma/weirdness there may have been has been taken away. I know when I was working, long before I had kids, when girlfriends at the office talked about pumping, the mechanics of it all went over my head — I just thought of it as "baby related" instead of "boobie related," if that makes sense. (Sorry, couldn't pass up the pun.) So here's my advice:
If your contact is a man and you're uncomfortable asking him, ask his secretary or a female subordinate.
If you happen to know the folks in HR, ask them.
Whatever you do, be professional and calm about it — you have every right to ask this question, and if it's a big deal it's because of his/her/their problem, not yours. Two suggested scripts: "As you know I recently had a baby — is there a private place that I can pump?" or (although personally I hate the word "lactation"), "Does your office have a lactation room? If not could I request a private office?"
(Also: I seem to remember seeing apps that tell you where you can go to pump, but maybe I'm wrong… readers, does anyone know?)
Readers who travel often for work (and pump), how have you handled this situation? Do you think there is still weirdness about pumping at work? How would you advise someone who needed to pump in a different office?
This post contains affiliate links and Corporette® may earn commissions for purchases made through links in this post. For more details see here. Thank you so much for your support!