2017 Update: We still think these are really cute strappy pumps for work, but you may want to check out our latest roundup of sleek strappy pumps for the office.
Sure, we all know what basics professional women are supposed to have in their closets, but if you're buying one for the first time or replacing one you've worn into the ground, it can be a pain to find exactly the right incarnation in stores. In "The Hunt," we search the stores for a basic item that every woman should have.
I've said it before, I'll say it again: I find classic pumps challenging in tights (damn my narrow heels!). As the weather gets colder, though — particularly if you're commuting in rain boots or snow boots — tights become more practical.
My way of dealing with this has always been to keep strappy pumps at the office. They've become some of my favorite shoes over the years because I find them much easier to walk in.
We haven't talked about strappy pumps in almost a while, though, so let's discuss… Readers, what shoes do you wear with tights in the winter? Are you a fan of strappy pumps for this purpose — or do you prefer to wear booties and shooties? Bought any great ones recently?
This post contains affiliate links and Corporette® may earn commissions for purchases made through links in this post. For more details see here. Thank you so much for your support!
2020 Update: These are some of our most recent favorite strappy pumps…

Psst: here are our favorite tights for work (just updated the post!).
First, a round up of some broad categories (most links, unless otherwise obvious, go to Nordstrom or Zappos):
Ok: these may win for the worst name (AKFion?!) but I like the look of these classic pumps enough that I'm including them (and hey, Anne Klein shoes have been some of the most comfortable heels I've owned). 3″ heels, and for a mere $79 — they come in four different colors. (Also in this price range, but not pictured because I feel like I've posted so many times about them: the $60ish Sole Society strappy pumps. They continue to go strong and win rave reviews, so if you're on the hunt for a budget option they're a great place to start. They have a lot of strappy options, but the main three styles are the Anneke, Olyvia, Tamra.) Pictured: Anne Klein AKFion
This pump is another one that's rising in the Hall of Fame — I feel like the Marci style has been around for a while from Nordstrom's Halogen line. I like the curve of the vamp and the placement of the strap, and I love the fun stingray print, pictured — it's a great way to bring some matte texture to the party. The pump is currently available in four colors, sizes 4-12, for $99 at Nordstrom. (Also in this price range: this Naturalizer heel we've featured before, as well as this nice, low, sleek Trotters heel.) Halogen Marci Mary Jane Pump
Boden has two things of note today. First, a big midseason sale ending TODAY (up to 40% off, with free shipping over $49+), and two, a TON of cute strappy pumps and flats for work. These Lille heels look fabulous — the crisscrossy straps and fringe tassels are both very in right now, without being hit-you-over-the-head trendy — and for $118, it's hard to go wrong. They're available in three colors at Boden. Along similar trendy lines, I really like the fringe detail on these J.Crew heels, as well as the similar lace-up detail on these Weitzman heels; these Madden heels are a bit closer to the Boden price range. Pictured: Boden Lille Heels
I've been hearing great things about the Schutz brand lately, and like the look of these Mary Jane tie heels. (They remind me a lot of more walkable pumps from Ivanka Trump that we've featured before.) These are 4″, available in three colors (sizes 6-10) for $180. Schutz Kutia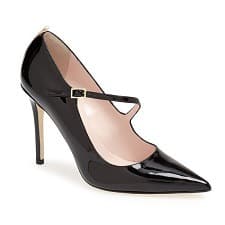 I've drooled over SJP's Phoebe pumps in the past, but these Diana pumps are much higher rated. Named after Lady Di, they have 3.5″ heels, an asymmetrical strap, and 18 positive reviews praising their comfort and quality. They're $365. (These more affordable Calvin Klein pumps have a similar look with a wider strap.) SJP by Sarah Jessica Parker 'Diana' Pump
Ferragamo is a reader favorite as far as comfort and quality go — so I'm excited to see these peep toe Mary Janes, which are new to me. The placement of the strap is perfect (not too high, not too low), and while I'd prefer if they were closed toe, I do think the peep toe is small enough that you can wear it with tights without too much fuss. They're $775 at Nordstrom. (They look super high here, but the heel is only 2.75″. If you want something similar, but lower/sturdier, check out the Anyi Lu Tulip pump.) 'Mood' Pump Salvatore Ferragamo
Like this feature? Check out other recent installments!