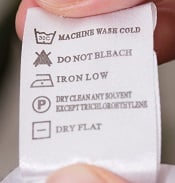 2016 Update: Check out our latest discussion on how to care for dry clean only clothes!
Today's reader mail has to do with something near and dear to our hearts…
It drives me crazy when everything is labeled 'dry clean only'. For wool and fine fabrics, ok. But synthetic tops labeled d.c.o.? Please. Am I correct in thinking this is butt-covering on the part of the manufacturer, and it's safe to hand-wash these, and lay them flat to dry? This is what I usually do, and haven't ruined anything yet, but they are huge pain to iron. This is why I hugely favor thin sweaters under jackets.
Agreed. When purchasing a piece of clothing, we often factor dry cleaning into the mix — that $50 dress at Filene's starts to look a lot less reasonable when you think of the dry cleaning costs associated with it. First, there is a difference between "dry clean" and "dry clean only" tags — the ones that say "dry clean" CAN be washed in Woolite or by hand; it's the "dry clean only" tag you're supposed to pay attention to at your own risk. So what should you risk? Personally, we've always followed the dry cleaning instructions for our suits, jackets, and nice dresses — as well as for any other piece of clothing that we seriously love. For everything else (which is most stuff), we have a "first year" policy: for the first year we own a piece of clothing, we follow the instructions on the tag. After that, we give it a whirl with Woolite. Thus far, this policy has only netted us one shrunken going-out top (made of a synthetic material like polyester), but lots and lots of clean cashmere an wool sweaters, and even some trousers that have come out just as nice with Woolite.
We've experimented with Dryel, as well as hand washing, but mostly without success — Dryel didn't seem to get the clothes as clean (although, let's face it, sometimes a suit passes the point of no return and just won't smell clean), and hand washing just was a huge, drippy mess and made us feel like the clothes were being pulled farther out of shape by either a) being rolled in a towel to dry them, or b) being hung up while still so wet. Readers, what has your experience been?
Photo credit: Shutterstock/Dmitriy Sudzerovskiy.