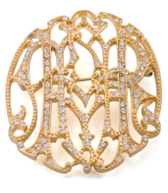 2018 Update: We still stand by this advice on how to wear brooches (and links have been updated below) — but you may also want to check out our more recent roundup of how to wear a brooch.
Reader L writes to us, wondering:
Can you do an article about how to wear brooches / pins? They always look so nice on Michelle Obama. I bought two of them and have no idea if they are work-appropriate or what to do with them…
Personally, I love brooches.  (Pictured above:  Nonogram Pin, sadly no longer available at Brooks Brothers.) Back around 2003 it was all the rage to wear 2-4 of them (at least, it always seemed like that's what Stacey and Clinton were advising folks to do); now, thanks to Michelle Obama, they've regained popularity. I'm not sure they ever went "out of style" completely, though—in other words, if you like the way they look and Michelle Obama stops wearing them for some reason, you can still wear them.
There are lots of ways to wear brooches, obviously.  On the lapel of your jacket or blazer is the most obvious place — this works best with more delicate-looking
brooches, but can be done with larger brooches as well. We've seen Michelle wear them as ways to keep a cardigan closed; we'd advise going with a fairly muted, large brooch (the one above is a bit fancy, but would work well for this purpose) and positioning it in the middle of your abdomen — well below your breasts.   We're a big fan of wearing a large, colorful brooch with a solid-colored turtleneck or scoopneck; wear the brooch not on your chest but in the region between your clavicle and shoulder.  Finally, for work, we'd also include the brooch-as-hair accessory — if you're doing a low ponytail or a half-up do: try pinning the brooch in your hair so it anchors to the elastic — it'll just look like a really lovely barrette.
The more shiny/sparkly a brooch is, the less appropriate it is to work (at least, for our $.02).  We'd wear these kinds of brooches to dinner parties and black-tie dinners, though; pinned to the dress at the waist (either centered or at the side), or pinned to the shoulder/clavicle region.  If you have two matching brooches you like, you can try to pin them to your dress at the shoulder–we're thinking of some old scene in a Claudette Colbert or perhaps Katharine Hepburn movie where the heroine wears a sleeveless, Grecian-type drapey dress and does this.
In general, keep in mind that the brooch — worn for work — should bring attention to your face; not your chest or your outfit.
Readers, any opinions on how to wear brooches? Shop more brooches, below…