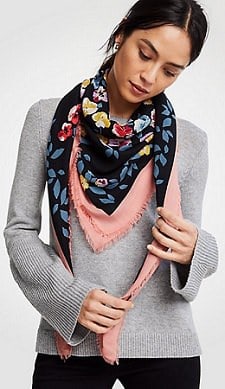 What are your best tips on how to wear scarves to work, readers? What are the best styles — the splurgeworthy brands — and the best fabrics and shapes for scarves? How do you like to style your scarves in 2018 for a modern look? Reader D wonders:
Would you please do a piece on scarves? What are the best brands, materials, styles for the executive suite? Silk, cashmere, blend, wool?
Great question, D! We haven't had a discussion on how to wear silk scarves in a few years, and I can't wait to hear what readers say. While readers here have wondered if scarves are professional enough for work, Fortune recently(ish) called scarves the new power accessory for executives. Personally, I tend to associate scarves with style over trend because they really depend on the woman and how she wears them.
Stay tuned for some of our latest favorite scarves!
This post contains affiliate links and Corporette® may earn commissions for purchases made through links in this post. For more details see here. Thank you so much for your support!
For my $.02, these are my best tips on how to wear scarves to work:
First, consider how you'll use the scarf. If you're looking for one for warmth it's probably better to get a silk blend like my beloved Nordstrom tissue scarves (silk/wool will be heaviest, silk/modal will be great for between weather, and silk/linen for summer), whereas a simple silk, polyester or chiffon is best if you're just looking to add an accent. In general the best scarves seem to be square or rectangular so you can fold them and use them in a more versatile way.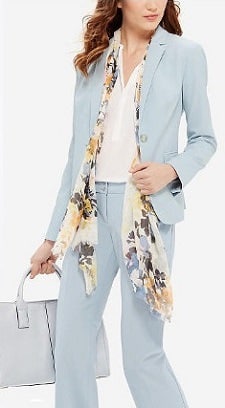 If you're looking for status, Hermès is where you start drooling — one of my old bosses had a huge collection of Hermès scarves and loved to wear them long against a blazer and simple t-shirt (as pictured on the right) — it somehow came out one day that she thought tags were itchy so the scarf also served a purpose.
(Ooh, I've just found Une Femme d'un Certain Âge's post on overdyed Hermes scarves and now totally want one.) Among more creative sorts I think the McQueen skull scarf still has a lot of cachet. DvF used to make great scarves with all of her wonderful prints — I have a 100% cashmere one of hers that is super thin (I wear it with lightweight jackets); it looks like the brand only has silk scarves at the moment.
If you know what you're looking for in terms of authenticity you can often find these on eBay and other resale sites, but caveat emptor!
Shop vintage. If you're just looking to play and test scarves with your style and the other things in your wardrobe, keep an eye out for scarves in excellent shape (no loose threads or snags) at vintage stores or your grandmother's closet.
Everyone from mall stores (Ann Taylor, H&M, Uniqlo) to smaller labels like MM LaFleur sell scarves too, so keep an eye out for deals or appealing patterns/colors wherever you usually shop.
I have two additional tips if you're scarf-shopping for scarves to wear to work:
Keep an eye out for a simple black scarf (or another of your base neutral colors). I kept one of these at my office for those days when I got to work and realized, belatedly, that my dress's neckline was too low for my comfort level. You can either stuff the scarf in your neckline so it looks like a blouse or additional edging for the dress — or you can loop it around your neck like an infinity scarf to cover your dress's neckline. (If you haven't seen the classic Youtube video from Wendy's Lookbook on 25 ways to tie a scarf, you must — lots of great ideas for work, weekend, and your commute.)
Get an office pashmina. I've said it before, I'll say it again: an office pashmina (or wrap, or stole, or ruana) is a really versatile piece to keep in your office, and one way you can use them is to add them to your outfits for warmth either by throwing them over your shoulders or wearing long. They can be a thick for wrapping around your neck, though, so if that's your preferred way to wear scarves I'd look for silk or chiffon styles instead.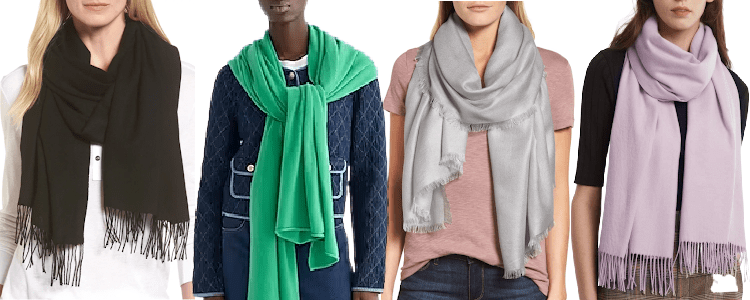 Some of our favorite office pashminas as of 2023: black / green / gray (lighter weight) / lavender ($20!!). If you're looking for more of a ruana jacket, I highly recommend the Brooks Brothers' ones!
Pictured at very top — interestingly, the bandana style pictured seems to be growing in popularity — what are your thoughts on it for work?
Readers, what are your thoughts on how to wear scarves to work? What are your favorite sizes, brands, fabrics, and styling tricks (bandana, loop, long) for scarves?
Pictured below (affiliate links if item is still for sale): one / two / three / four / five / six.