2017 Update: We stand by this advice on wearing vintage clothing to the office, but you may also want to check out The Ultimate Guide to Business Casual for Women.
The other day, we got a request from a reader asking whether vintage fashions are ever appropriate to wear to the office or to court.  At the guts of her request, she asked:
Does the fact that a suit is vintage make it too costume-y?  Does it depend on the styling and the pattern (read: no fur collars, no plaid or speckles)?  Does it have to be very plain in color and details (read: black, navy, or grey only)?
This is a very interesting question to us, because we see her concerns — vintage suits are frequently more body conscious than today's suits, and a lot of the details that went along with the vintage suits — the blood red nails and lips, the wild hats, the pin curls, the elbow-length gloves, and the seamed stockings — are more the province of a a Halloween costume than of a professional reputation.  But a lot of these suits, such as the brown one pictured (link courtesy of our reader!) don't look, by themselves, that costume-y.
That said, we see no problem with wearing vintage, so long as you don't adopt the entire vibe of the era. For example:  if you wear a vintage suit with vintage-inspired shoes, wear more neutral makeup, with a modern bag and simple hair.  On the converse, to maintain a sense of continuity in your styles, you could wear a more modern suit with vintage shoes, or go for a pin curl look with Benetton.  We would try to stick closer to neutral, basic colors and avoid more garish ones, but keep in mind that we've seen quite a few fur collars, speckles, and plaids in stores recently, so use your judgment.  Your goal should be for people to think of you as a stylish but competent lawyer, not as Dita von Teese's legal eagle cousin.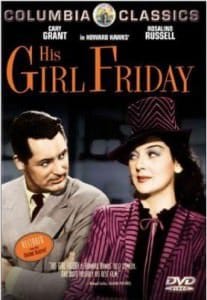 Things we would avoid — particularly in front of a court, or a boss — would be any suit featuring serious shoulder pads, stripes going in different directions, or anything requiring a corset to fit into. (For example, see the suit worn by Rossalind Russell in the opening scenes of His Girl Friday — absolutely stunning, but not something we'd wear in front of a fact finder.)  These pieces can be bought and broken up — for example, Russell's striped suit jacket would look almost tame with black wide-legged trousers and a simple white blouse or t-shirt — but we wouldn't chance wearing it in front of someone who thinks you're a little girl playing dress up.

As far as shoes, we think the only goal with shoes is to avoid anything too revealing (open-toed shoes are generally not acceptable in some parts of the country; some people think even toe cleavage is too much) or too dominatrix-inspired.  We think vintage-inspired shoes with a modest heel height (like the RSVP pair the reader suggests) are acceptable.  Again, we would stick closer to conservative styles — spectator pumps, thicker heels like those of the 60s — but again, if worn with a modern suit this shoe would add a nice touch of personality.
Readers, what do you think?  Are vintage fashions appropriate for the office?
The original reader's full letter (slightly edited), after the jump:
Hi there–
I had a question about vintage and vintage-inspired apparel in the corporate workplace.  I was wondering if you had any thoughts on the appropriateness of vintage for the corporate or semi-corporate environment. I'll be doing public interest, but I'll be in the courtroom a lot, so it's looking like it'll be a lot of suits and closed-toe shoes, even though it'll be summer.
Example 1: Shoes.


So in my travels on Zappos, I came across these rsvp – Lani (Black Leather) – Footwear.  Clearly vintage-inspired, with the curvy sides and heel.  Does that take away so much from the formality of them that you couldn't wear them, say, to court?
Example 2: Clothes.

Likewise, there are some badass vintage suits on eBay. I know I'll have to wear suits, and it would be awesome to be able to spice up the Benetton and Ann Taylor with something a little more my speed. Here's one for the sake of example (pictured).  So, something like that, that's in great condition and is very conservative, and, in my opinion, very chic — what's the verdict?  Does the fact that it's vintage make it too costume-y?  Does it depend on the styling and the pattern (read: no fur collars, no plaid or speckles)?  Does it have to be very plain in color and details (read: black, navy, or grey only)? Or is a vintage suit just too Mad Men overall to be worn as work attire? (I'm aware, alas, of how Mad Men has irrevocably taken the vintage work dress and made it the exclusive province of women who don't want to be taken seriously. Sigh. There goes my plan.) I know that it's not good to look too sexy-secretary, and the body-consciousness of vintage (plus the vintage vibe of the contemporary sexy-secretary look) would seem to lead it to trend that way. So, what do you think? Appropriate? Sometimes appropriate? Not appropriate?
I know you could probably break up the pieces, pair them with something more modern, and be good to go, but then you're not wearing a suit, and you can't go to court. Sigh.
Anyway, your thoughts on these issues, and issues about vintage generally (e.g. vintage but not costume-y clothes to work social events–yea or nay?), are greatly appreciated.
Love the site–although going into public interest means I only get to look at the Thursday and Friday TPS reports as even remotely relevant to my lifestyle. Ah, well.
Yours,
A reader