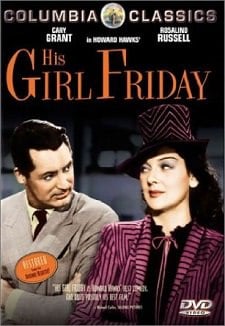 Ladies — did you get a chance to watch the movie His Girl Friday? This is part three in our series on "working girl" movies; you can check out our earlier discussion of the movies 9 to 5 and Working Girl. (You can stream it for free on Amazon Prime if you haven't.)
I hadn't seen this movie in a few years, and I was interested to see it again for this discussion — I'm a big fan of Cary Grant (my youngest son's middle name is Grant because of him) and director Howard Hawks, and while I haven't seen a ton of Rosalind Russell's work this movie has made her beloved to me. There are obvious parts of the 1940 movie that don't translate well to 2016, such as a few intolerant lines, but I still thought it was interesting to watch. Some notes, in no particular order:
I love the entire premise of this movie — that she loves her job and the thrill of reporting more than her super boring but handsome fiance who can promise her the life of a "human being," aka a suburban SAHM. (Ralph Bellamy, who plays her fiance, was a very popular leading man back in the day and, at the time of the movie, casting him was to cast quite a 'catch.' He had a huge career — I always remember his much later role in Trading Places but he was also in Pretty Woman.)
I love that scene where the newspapermen read Hildy's draft when she isn't there and all recognize what a good writer she is. It's funny to think this was a 1940 movie — they looked to her as their equal throughout the movie, and growing up I never questioned the idea that women were equal to men, or that men would question their equality/intelligence/competency, in part because of screwball comedies like this one.
It's interesting to contrast that to the 1980 movie 9 to 5 — where women were being chased around the desk — or the 1988 movie Working Girl, where she's alone in the room negotiating with a sea of men.
I guess one way of understanding it is to think that Hildy, in 1940, represented a star, a shining example of what women could become — whereas in 1989 there was some weariness over the fact that women had to be an absolute star to stand out over the sea of men.
I'm particularly curious to hear from you guys, though — particularly those of you who grew up with all of these movies, as I did — how do you interpret the progress or lack thereof made by women in the intervening years? Did you internalize a different message from the different movies? 
This movie is one of the classic examples of the "fast-talking dame" — it's even on the cover of the 2003 book all about the movement. From the book description on Amazon:
A note on fashion: hooray for women's indoor hats going away — let's hope that trend stays gone; I wasn't a fan of any of the hats.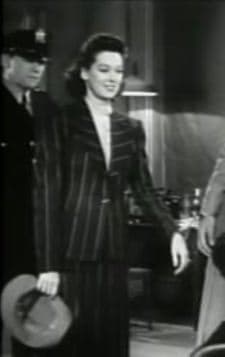 Hildy doesn't have many outfits in the movie — she spends most of the movie wearing that crazily-striped number from the movie poster (which may or may not have been purple, as pictured above) before she switches into a more subdued (but still a bit crazy) pinstriped number.
You may think, MY, how garish — but there's a scene where one of the male reporters is looking out the window with Cary Grant and from the close-up on his suit you can see that the pattern there was also slightly crazy. So: crazy prints! Not just for chicks! (I'll try to find a screenshot if I can of his suit.)s
I've studied this movie in a few different contexts, including the journalism one — I'll spare you the details, but by way of explanation, it IS interesting that this was before the "watchdog," "unbiased" era of journalism, back when each major city had a Democratic and Republican newspaper. (Unfortunately I don't have a book on journalism history handy right now to check it — here's a link to the Wikipedia page about how newspapers were strongly tied to political parties for much of the country's history.)
As much as I love the movie (and Cary Grant), the ending of it grated with me this time, where he makes her carry her own suitcase out of the room and she sounds so dazzled that she gets to marry him (again).
A few choice quotes:
Hildy: "Walter, you're wonderful, in a loathsome sort of way…"
Hildy: "Scram, Svengali…"
Hildy: "Yeah, he should make some girl real happy… slap happy…"
Walter: "Take Hitler and stick him on the funny pages! … No, no, leave the rooster story, that's human interest."
Ladies, what are your thoughts — if you'd seen it before, how did it hold up for you? If this was your first watching, did you like it? What are your thoughts on the way working women were depicted differently in 1940 vs. 1980, 1988, and then movies of today?