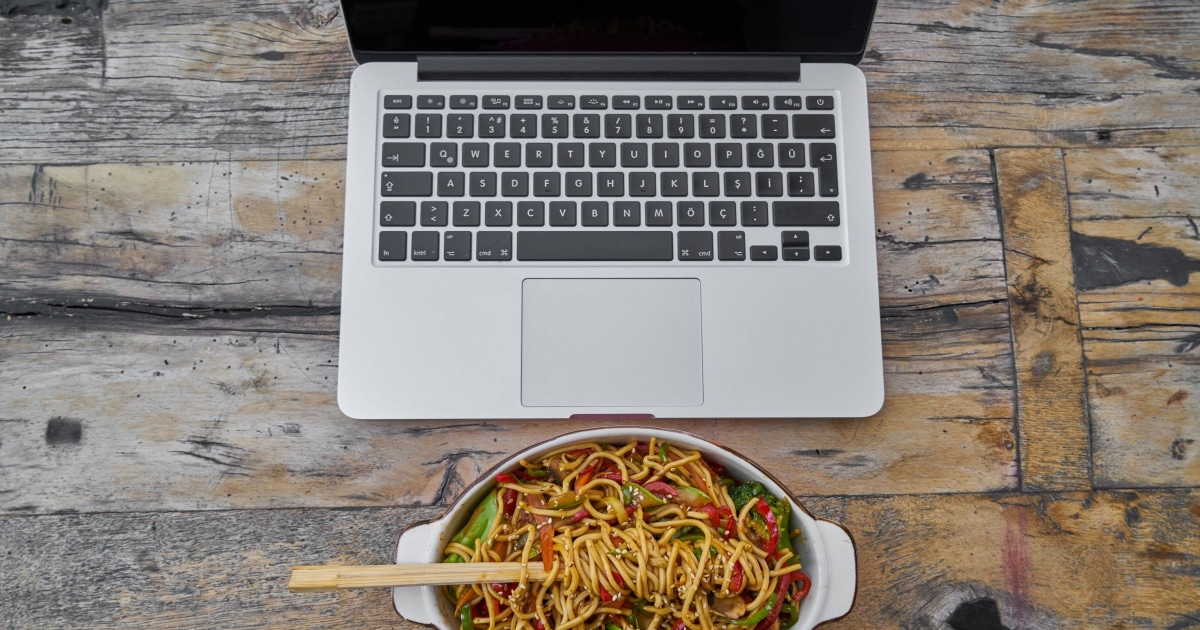 2019 Update: We still stand by this discussion about eating lunch at one's desk — you may also want to check out our discussion of eating late at the office, as well as our most recent roundup of environmentally-friendly and stylish office lunch containers if you're bringing lunch to work!
Today's question comes from a reader curious about the business etiquette around eating lunch at one's desk — specifically, how to look polished while eating lunch at one's desk…
I have a question for you guys: what's the opinion on eating lunch at one's desk? There are some projects I need (and want) to stay in the office for but I have to eat! It's incredibly hard to look professional mid-bite of a taco and even salads can get interesting. Not to mention, with an open office plan, not everyone is in lunch mode, so while they're having a meeting, I'm scarfing down a sandwich. Dinner isn't so much an issue, as its afterhours but lunch is still a conundrum for me. Is this an issue for anyone else? Do you avoid certain foods? Curious…
For our $.02, if we haven't planned lunch with someone, then we tend to prefer to lunch at our desk. We don't mean to be antisocial, but it helps us to continue whatever thought we were in the midst of before hunger pangs overtook us, or to surf the web and read blogs that we wouldn't have time for otherwise. (In fact, we hate taking breaks in the middle of the day, and tend to bring snacks like yogurt and raw almonds so we don't have to leave the office at all.) Some people really do not like the smell of pungent food — we worked in one place where, allegedly, the microwave had been banished to a back room on a middle floor because one of the bigwigs did not like the smell of cooking food. And to that end, it might make sense to avoid really smelly lunches or snacks. It might also pay to be considerate, smellwise, of folks who are dieting — avoid bringing in McDonald's fries or heating up that brownie. If you're eating in an open space, there may be other considerations, such as what people can see and here. You may want to avoid things that are difficult bites to eat — long spaghetti, really large pieces of sushi — or things that fall apart randomly (e.g., hard-shell tacos). This doesn't mean you're left with nothing to eat — ask for them to chop your salad. Choose tortellini rather than angel hair. Soup and sandwiches are lunch hits for a reason. If you prefer to adopt our approach of eating really small meals between breakfast and dinner, it does seem (to us at least) pretty unobtrusive to eat things like an apple, a carton of yogurt, a few raw almonds, a skim latte, and so forth, throughout the day.
Readers, what are your thoughts? Do you lunch at your desk frequently? If you're working in an open space, what do you eat?
Pictured above: Flickr has an amazing pool of photos snapped by folks who bring their own bento lunches to work, many of them using the Zojirushi Mr. Bento
system. (Specifically, above: Tuesday Bento (28) – Zojirushi, originally uploaded to Flickr by devlyn.) If this isn't quite your thing, check out Amazon's fairly extensive collection of really cute lunch bags.
This article was originally written Oct. 8, 2008, but substantially updated on Nov. 14, 2019.
This post contains affiliate links and Corporette® may earn commissions for purchases made through links in this post. For more details see here. Thank you so much for your support!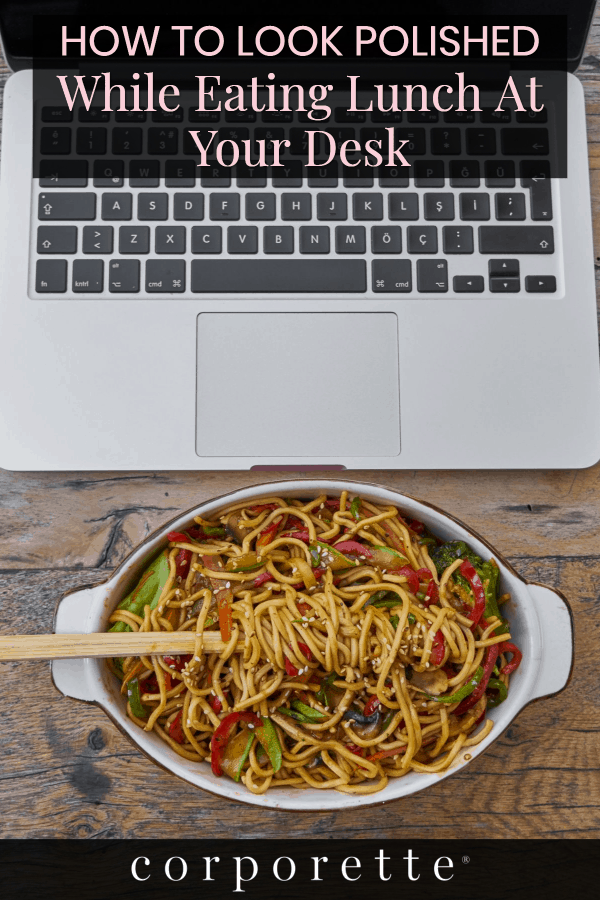 We are a participant in the Amazon Services LLC Associates Program, an affiliate advertising program designed to provide a means for us to earn fees by linking to Amazon.com and affiliated sites.