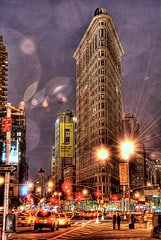 2018 Update: Check out our new and revised guides to Where to Shop for Workwear in NYC!
Today's reader mail is a question for where to shop in New York City…
I am about to spend a week in New York City (June 19-26th, in fact) and I'd like to do a little shopping for work clothes while I'm there. Normally I stock up on casual clothes at H&M, but their work attire is too cheaply made for my office. Do you have a recommendation or two for stores in the Gap/Banana Republic/Limited/Express price range, that I couldn't shop at in any city in the US?
Ah, a leisurely day of shopping in NYC — what fun! Given your price range and your goals, we'd recommend a few different stretches, depending on your time and energy. First up, we'll talk about the area we'll call Lower Fifth Avenue. Photo:  Flatiron Building, originally uploaded to Flickr by sunsurfr. (The Flatiron Building is at 23d and 5th. It's beautiful, but not really noteworthy as a shopping destination in and of itself.)  (Read parts II (where to shop in SoHo) and III (other shopping in NYC), also!)
Depending on where you're coming from, you'll want to start either at 22d and 5th Avenue and work your way south (along Fifth) or at 15th and 5th, and work your way north. Destination points for a good selection of work clothes, in your price range,  include: Club Monaco, BCBG/Max Azria, United Colors of Bennetton, White House | Black Market,  and Zara. (Last we checked those stores weren't available in every Midwestern mall.)  You'll also pass Ann Taylor, Banana Republic, J.Crew, Express, Gap, and Anthropologie (and sometimes the stores in New York do carry more pieces than stores elsewhere, so it's worth a stop in if you've got a favorite). For lower-priced shoes check out Aldo and Kenneth Cole; for our money we'd detour slightly off Fifth Avenue onto 17th street, though, and head to Sacco Shoes — slightly more expensive but much better made and more comfortable.
Other shopping, for casual or going-out wear includes:  Eileen Fisher, A/X Exchange, H&M, Juicy Couture, and bebe.
If they're having a sale, or if you're in the market to ogle some great bags, stop in Searle and Intermix — you can get lucky here, but in general their audience is the very small woman who goes out a lot and has no budgetary restraints. There's also a Kate Spade store and a stand-alone Coach store along these stretches — pricy, but fun to check out.
After doing this stretch of Fifth Avenue, evaluate your energy. Still good? Head west to Loehman's (16th and 7th). Not so much? There are a ton of restaurants nearby on Park Avenue South between 18th and 26th, or between 5th and 6th avenues (try 18th or 19th street). If you're in the mood for comfort food to eat in the park, the venerable Shake Shack is nearby.