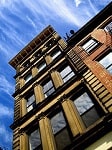 2018 Update: Check out our new and revised guides to Where to Shop for Workwear in NYC!
A reader wrote in, requesting where to go in New York for "Banana Republic-priced" clothes she couldn't find in the Midwest. We started our round-up of shopping stretches in NYC on Thursday, covering what we call "Lower Fifth Avenue" shopping. We'll continue today with our suggestions on how to make the most of SoHo, which can be a very efficient shopping stretch if done right. Photo credit:  nyc soho lofts, originally uploaded to Flickr by DropFocus. (Check out part III in the series, here.)

Starting at Houston and Broadway (and for those of you not familiar with New York, Houston is pronounced "How-ston," not "Huw-ston"), head south along Broadway. Between Houston and Grand Street, you'll find a slew of international stores that have limited locations in the United States, including  Uniqlo (Japan),  Zara (Spain), Mango (Spain), Eryn brinie (Korea), and TopShop (UK). All of these have reasonably-priced casual clothes, as well as a fair amount of work-appropriate clothes such as blazers, dresses, and blouses. Along this same stretch you'll pass stalwarts such as Kenneth Cole, Banana Republic, A/X Armani Exchange, Express, Esprit, Aldo, Sephora, H&M, Steven by Steve Madden, and, of course, Bloomingdale's. (The frozen yogurt at Bloomie's is well worth a stop if you're in the mood for a snack.)  Also along this stretch is Madewell, J.Crew's new store.
If you still have energy and a good sense of direction, you should try hitting some of the side streets for a greater shopping experience (Prince Street in particular has more stalwarts, like Club Monaco and J.Crew (including its new accessories shop), as well as UK import Karen Millen). West Broadway, which is a completely different street than Broadway, also has a good stretch of shops with affordable work clothes, including Reiss and Anthropologie.
Other places that we would mark as "destination spots" include:
Kate's Paperie, for an amazing selection of stationery, cards, and office supplies (on Spring Street, between Crosby and Lafayette)
MoMA Store, which also carries a ton of fun office supplies (and has a MUJI store inside it)
Pearl River Mart, for a fun Chinatown-like experience without actually venturing into Chinatown
There's a ton of designer shopping in the area. Some are fun just to check out just because they may be different from what you're used to, including Agent Provocateur and Kirna Zabete (for a true NYC boutique shopping experience). Barney's also has a CO-OP store in the area.
If you're in SoHo in the evening and in the mood for cocktails, we recommend Pegu Club or Pravda; both serve small bites as well. If you're planning dinner, Peasant isn't very far and has excellent Italian. (These are just off the top of our heads; obviously there are a million wonderful restaurants and bars in SoHo.)