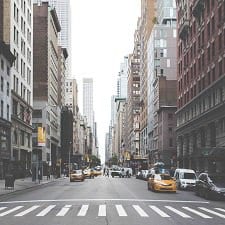 A reader suggested we start a series this summer for what to do in different cities — I DO often notice that there are a lot of comments about different cities, so this seems like a great idea. Let's start with NYC! What's your best advice on where to shop for workwear in NYC? (What about other fun shopping?) What are your favorite restaurants and bars? What hotels have you found to be decent; which attractions are a must for you? Here's a template to use for your response if it's helpful:
Where to stay:
Where to shop:
Where to eat:
Favorite attractions:
Etiquette tips if any:
Safety tips if any:
Other notes:
Readers, you can check out other posts in our City Guide series here. Want to offer advice for YOUR city? Please fill out this form — we'd be so thankful for any advice you have! 
For my $.02, here are my answers: