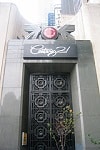 2018 Update: Check out our new and revised guides to Where to Shop for Workwear in NYC!
Ok, we're sure that readers who have no interest in Gotham City are starting to get seriously annoyed (particularly because, alas, we don't have the personal knowledge to do this for any other city — if you're a reader and would like to take us through another city, either in the US or abroad, please e-mail!). In any event, this will be our last for the NYC-shopping series. Photo credit:  NYC – Century 21, originally uploaded to Flickr by wallyg.
To recap:  a reader wrote in wondering where to shop in New York City for work-appropriate clothing in a Banana Republic price-range. We suggested Lower Fifth Avenue in Part I, and Soho in Part II — both because they have a ton of acceptable clothing stores in that price range, but also because they were efficient shopping stretches. But we felt it would be an incomplete answer if we didn't point out a few out-of-the-way stops that are also worth a visit.
* Century 21. No, it's not a real estate broker — it's one of New York's discount department stores, located in the Financial District. This place can be a madhouse, but you also can get amazing deals on pretty much anything you can imagine. We highly recommend a trip to Century 21 for someone who a) knows their brands well, b) doesn't care about wearing last year's (or older) clothes from designers, c) has a slightly European sensibility, and/or d) has the patience for picking through very disorganized racks. Also note — the lingerie department carries a ton of brands not normally seen in the US. You can't try them on at the store, but they do have a good return policy.
* Macy's comfort shoe department. If the mere thought of  3″ heel makes you wince, you may want to check out Macy's, on 34th Street, which has a separate department (half a floor) devoted to the "comfort brands" in women's shoes. They carry a wide range of brands, in a wide range of prices. If you're just in the mood for a huge variety of shoes, head to Saks, with a shoe department so large it literally has its own zip code.
* Sample Sales. If you're coming to New York, you should try to attend a sample sale, if only for a fun New York experience. As commenters noted in Part I, you can get details of where these sample sales are occurring via Racked; we also would recommend buying a copy of Time Out New York at a news stand when you arrive — the magazine carries a listing of sample sales. If you're already headed to Macy's, or anywhere near Herald Square, we suggest checking the website for SSS Sample Sales — they're located a few blocks away from Macy's, and frequently have good sales on work-appropriate clothes.
* Woodbury Commons. This place is a bit far flung, but we'd be remiss to not include it — this outlet mall is about an hour north of the city; regular buses run from Penn Station for $15 or so. There are a ton of great deals to be found here.
All of the places above, as well as those mentioned in Parts I and II, are great places to stop if you have money to spend. But we always ask our friends this when they come to visit — do you have money you want to spend? Or would you rather just window shop? Because, in our opinion, window shopping is the most fun when you won't even be tempted. If that's your situation, here is the shopping stretch that we recommend — prices at all of these places are in the stratosphere, so it helps to think of this day as something similar to a museum-going experience, except far more tactile. (Note — if you plan to try things on or seriously look through racks, trust us when you say you will get treated much better if you dress well. White sneakers, sweatshirts, anything else that identifies you as a tourist — you may want to leave it at the hotel.)
For a day of shopping without a lot of buying, we would recommend starting at 60th and Madison, at Barney's — their jewelry department always makes us drool. (If you're starting the day off with a meal, we also recommend Fred's, the restaurant in Barney's.)  Heading south on Madison, you'll pass a ton of stand-alone stores (many of them flagships) for some huge brands — DKNY, Calvin Klein, Tod's, Stuart Weitzman, Wolford, Mulberry, and so forth. When you reach 57th Street, hang a right to head west towards Fifth Avenue. On the south side of 57th, you may want to pop into Tourneau, which has a huge selection of watches to aspire to — Cartier, Rolex, Tag Heuer, etc. (Niketown is also a fun stop, right next to Tourneau.)  On the north side, you've got the flagships for Chanel, Dior, Yves St. Laurent, and Louis Vuitton. At the corner of 57th and 5th, you may want to stop into Tiffany's to look through the first floor jewelry — it's fun to see necklaces that cost as much as your college education. From here, you may want to head north for a second to Bergdorf Goodman (at 58th and 5th) — the handbag selection is particularly inspiring. (Their beauty department also carries a lot of brands that are hard to find elsewhere.)  For the most part, though, you'll want to head south on 5th Avenue — and for the next ten blocks or so you'll have your pick of flagship store after flagship store. Some of them may be affordable, and worth the trip — for example, the Nine West flagship store carries a lot of styles that aren't in any other store. Others are fun just to gawk — we'd include Henri Bendel in this list. Saks is all the way south at 49th and 5th; if you have energy, pop in there — if not, you may want to head home to collapse or into a cab to head for a restaurant. (It should be noted that this stretch is really not the best for restaurants — if you need sustenance along the way we'd recommend getting a pretzel on the street, or perhaps heading to a nearby diner, Burger Heaven on 53rd Street, for a relatively pleasant experience that doesn't break the bank.)
Readers — have we missed any place that you'd like to add — either in terms of another efficient shopping stretch, or a particular point worth visiting?