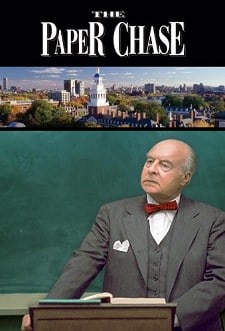 I got an e-mail a while ago from reader A, on the hunt for stylish bags for law school. She notes that "I consider myself too old (too fabulous?) for a backpack (I'm 28) so I'm looking for a bag for law school that is stylish, comfortable, and suitable for a laptop. I am just wondering if there is anything more creative out there than the black padded messenger bag…"
2017 Update: We've updated links within this post. Also check out our advice for what to wear to law school, as well as how to build your working wardrobe for your summer internship.
Amelia – Ah, law school! I remember it well. Before we get to the best bags for law school, a few other words of advice for gear to stock up on:
a cute laptop sleeve (update: check out our 2017 roundup of the best laptop bags for work)
a large nylon bag — you want something durable as well as lightweight, because your law school books will definitely be heavy enough by themselves. We've suggested a few for you below, but in general we'd suggest looking at diaper bags and beach bags as your main campus bag. If you have back problems, you may want to look into a rolling backpack, as most of the ergonomic bags are a bit too small for law school textbooks. (Another option is to to not buy the books at all and just read the cases from Westlaw or Lexis, which would allow you to carry only the 100 or so pages being discussed in class that day, or even just store the cases electronically on your computer.)
A cute mini-bag (either a cosmetics case or a pencil case) to keep cords from getting tangled in your bag
Something to control the cords when you're plugged in — most law school classrooms and libraries are wired so you only need about 10″ of cord, not 2′. You can keep them neat (and distinct) with velcro ties, available at hardware stores like Lowe's for a few bucks.
Here are my suggestions for bags:
The two bags I remember seeing around law school a lot are ones that are hard to find online: the largest Longchamp bag (either Le Pliage or Planetes (often available online only in the medium, not the large size) or Herve Chapelier bags (now only on eBay!). Note that the Longchamp store in NYC has a wider variety of bags and colors (such as black leather on black nylon); I've also been told that black on black combo is available in Canada.) These bags are great but there isn't much about them in the way of interior organization — but then, that's mostly fine if you're just going to class all day.
Otherwise, there are lots of great bags out there that are not backpacks or messengers. We've admired the brand Timbuk2 for a few years, also — they're durable and practical but cute, as well; the large size of this Classic Cargo (pictured below) is 16.5″ w x 12.2″ h x 8.5″ d, yet is only 2.25 lbs (and $90). Timbuk2 will also let you make your own bag.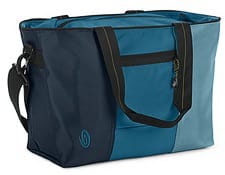 LeSportsac also has a nice variety of bags with durable yet lightweight nylon. Most are available in solid black as well as the crazy colors (but come on, how happy would you be going to class every day with this bag?). The new Erika bag (below) is 15″x 19″x 5″ and $56.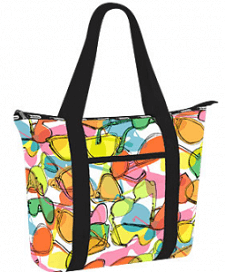 Land's End also has a variety of bags that are pretty good as totes — for example, this Business Tote is 15″x 12.5″x 5.5″ deep and already has a padded interior to carry a laptop. Available at Land's End for $59.50.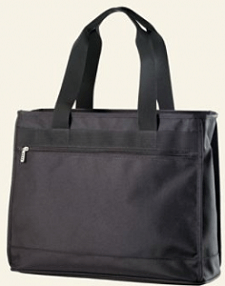 Also, we must recommend one book, at least. The summer before we went to law school, we read Planet Law School II: What You Need to Know (Before You Go), But Didn't Know to Ask… and No One Else Will Tell You, Second Edition
(well, the edition that existed then), as well as any books recommended by that book. Some of it is blowing 1L year out of proportion, some of it is great preparation.
Ladies, which were your favorite bags for law school? Which bag did you carry, and which did you see around campus the most?