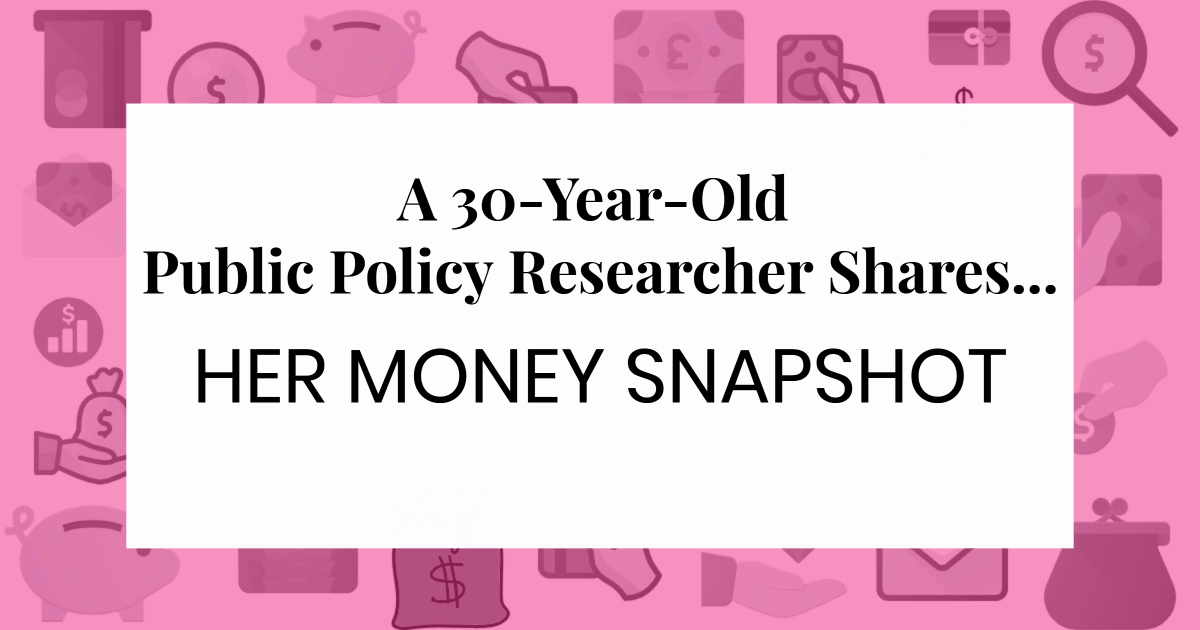 For today's Money Snapshot, we're talking salary, net worth, and more with a public policy researcher who lives in the Bay Area! She notes: "I inherited a low six-figure sum at age 25. My husband and I have 100% combined finances and savings."
We got a few requests from readers to launch our own "money diary" series, so we've asked willing readers to fill out a form with lots of details about debt, spending, saving and more! If you'd like to fill out the form and be considered for a future personal money snapshot, please click here to submit your response! You can see a PDF of the questions if you want to review them ahead of time. See others in the Personal Money Snapshot series here.
Please remember that this is is a real person who has feelings and isn't gaining anything from this, unlike your usual friendly (soul-deadened, thick-skinned, cold-hearted, money-grubbing) blogger — so please be kind with any comments. Thank you! — Kat
Name: LR
Location: Bay Area (very HCOL)
Age: 30
Occupation: Public policy researcher
Income: $75,000
Husband's age: 31
Husband's income: ~$140,000
Net worth: $420,000
Net worth when started working: Age 22; net worth approximately -$12,000
Living situation: Rental; $2,295
Debt
What does your debt picture look like?
I had $18,000 worth of student loan debt from undergrad, but my parents paid it off. I pay them back monthly (no interest). I recently increased payments to $500 per month (up from $150). We have no other debt.
How much money are you spending each month to pay down debt?
$500 for aforementioned student loan to parents.
How did you pay for school?
Undergrad: college fund from grandparents, $10,000 per year from parents, worked every semester in un-glamorous jobs. Grad school: chose low-cost public school, got jobs offering tuition remission, worked on the side, and paid for the final bill with inheritance money.
Have you ever done anything noteworthy to avoid or lessen debt?
We live a frugal lifestyle to avoid debt. For example, we bought a used car outright to avoid a car loan and do not intend to buy a home in our very HCOL area (which would require a jumbo mortgage).

Savings, Investments & Retirement
How much do you save for retirement?
About $1,700
How much money do you allocate to other tax-savvy investments/accounts?
$220 a month in pre-tax commuter expenses
How much do you save outside of retirement accounts?
Our household income recently increased, so this is changing, but it looks like it will be between $2,000–$4,000.
What is your investment situation like?
Vanguard Personal Adviser Services
Do you have an end goal for saving or are you just saving for a rainy day?
Early retirement; support elderly family
What's the #1 thing you're doing to save money, limit spending, or live frugally?
Find frugal strategies that benefit me in more ways than one. For example, biking to work costs less than driving, is better for my health, better for the environment, and a lot more fun. Make frugality a habit and count the positives!
When did you start saving seriously? How has your savings strategy changed over the years?
Right away after college. I began amping up savings with the goal of retiring early around age 25.
How much do you have in cash that's available today?
$5,000
How much do you have in cash that's available in a week?
$73,000
How much is in your "emergency fund," and where do you keep it?
$73,000 (as above)
How much do you have in retirement savings?
$13,000 for me (didn't contribute while in grad school and have always had low matches from employers). Husband has $110,000 and has had amazing matches from employers.
How much $ do you have in long-term investments and savings (CDs, index funds, stocks) that are not behind a retirement wall?
~$240,000
If property values (home, car) are included in your net worth, how much are those worth?
Did not include car in net worth, but it's probably worth $16,000 (brand that holds value well).
Spending
How much do you spend on the following categories on a monthly basis?
Groceries: $800
Restaurants, bars, takeout, and delivery: $100
Clothing and accessories: $25
Transportation: $220 for subway to work; no car payment, but $40-ish on gas
Rent/living expenses: $2,295
Entertainment: Library books, Netflix, Amazon Prime
Health care — premiums and other costs: Monthly premiums of around $220 for couple; maybe another hundred yearly for co-pays.
Other major expenses: Travel and skiing: depends on the year, but can be as much as $5,000 combined.
What's your spending range for these things? What's your average?
Vacations – Average: Varies wildly depending on destination, but $3,000–$5,000 for a trip for two to Europe is probably about right.

Charity – Range of donations: Donate to three to four organizations each year.
Charity – Average donation: $50 per charity; currently working to establish scholarship fund for husband's alma mater.
Individual items of clothing – Range: Wedding dress was $250. Do not spend much on clothes otherwise.
Individual items of clothing – Average: Shirts, $20; pants, $70; shoes, $100

Apartment or house – Current main residence: $2,295
Car or other vehicle – Average: $20,000
Car or other vehicle – Last purchase / current main vehicle: $22,000 in cash
Have any large medical expenses for yourself or others played a role in your financial picture?
Planning to support elderly relatives in the future, but exactly how is unknown.
Fill in the blank on this question: I could save _____ if I stopped ______, but I don't because _______.
I could save thousands if I stopped traveling and skiing, but I don't because they're very worth it and there are a million things I'd rather cut first.
When was your wedding, how much did it cost (total), and how much did YOU pay?
2014; $15,000 total; paid $1,000 ourselves
At any point in your life to date, has inheritance played a role in your money situation?
Had a college fund from paternal grandparents and inherited low six figures from maternal grandparents at age 25. I have been incredibly lucky to have received an inheritance. It helps me be frugal by choice while minimizing the risk that a huge medical bill could sink me or that I have to stay in a job I hate because I can't go without a paycheck for a month. I am proud that I save and work hard to reduce expenses in a very HCOL area, but the inheritance has "taken the edge off" in a very real way. I'm so grateful to my grandparents for managing their money so well and for living frugally themselves! We have all made good choices, but even more so, we've been very lucky.

How has your family provided financial support in your adult life?
Zero other than no-interest loan when they paid off my student loans.
Money Strategy
Do you have a general money strategy?
My general money strategy is to have enough saved that I have choices. For example, we're considering moving to a new state (lower cost of living) in the summer. The fact that that would mean missing my year-end bonus is not going to stop me. I'm also not worried if there is a stop-work order at my office if the government shutdown happens, even if I have to miss a few paychecks. I have worked hard to keep my set expenses low so I don't need to rely on the next paycheck or bonus to keep going.
Do you spend money to save time (e.g., cleaning service)? Do you donate your time instead of money?
I am willing to spend more for a direct flight to save time, but otherwise, I don't spend money to save time in most circumstances.
What are your favorite resources for personal finance (podcasts, blogs, books, series, conferences)?
Frugalwoods, Mr. Money Mustache, planning to read The Simple Path to Wealth.

What advice would you give your younger self about personal finance?
Start contributing more to retirement and keep it going through grad school.
Photo credit: