We're only in the second week of the new year, so this is a great time to talk about resume rules for 2017. This time last year, readers talked about whether or not they apply to jobs when they don't meet all the requirements (also see our imposter syndrome post), and a few years ago Kat answered a reader email about unusual ways to get your resume noticed.
Here are six resume rules for 2017 that you may not have heard:
1. Know that the "one page" limit no longer applies. Depending on your career and circumstances, it's OK if your resume goes beyond a page. To figure out whether to make your resume one, two, or even three pages, check out these guidelines from Monster. No matter what, though, keep it concise — and make 100% sure there are no typos!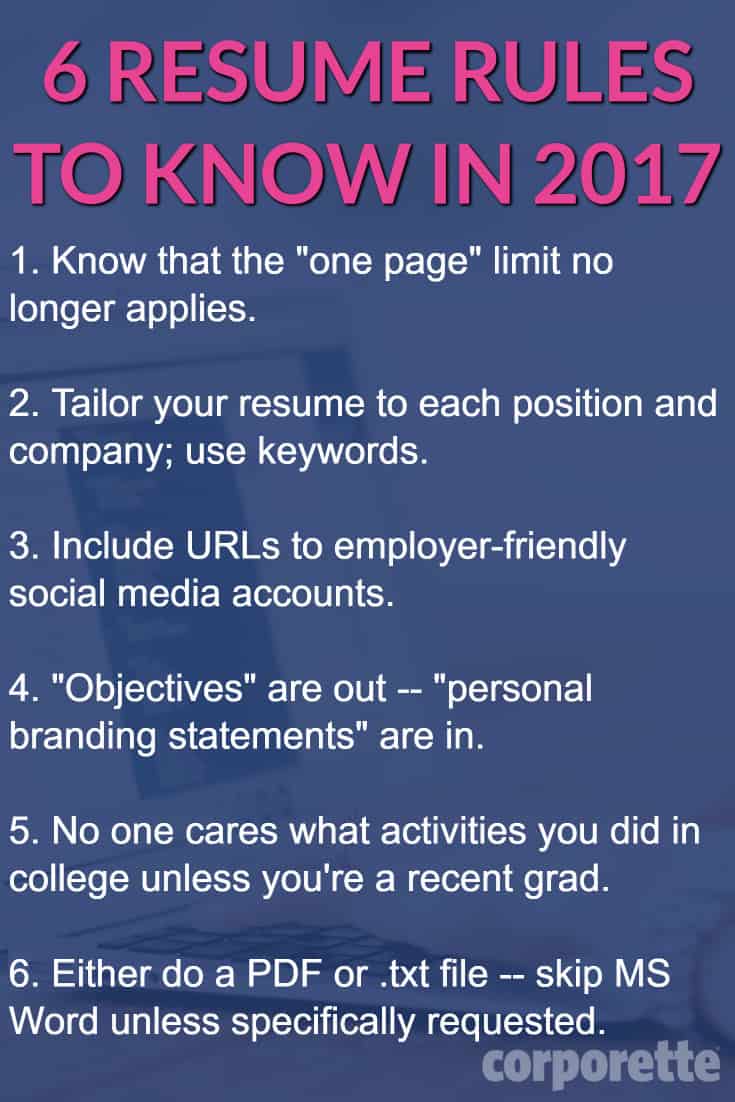 2. Tailor your resume to each position and company; don't keep sending every employer exactly the same one. Use the words and phrases from the job description in each resume, especially because it's more likely to be read by a computer first than by a human.
3. Include the URL of your LinkedIn profile and any relevant, employer-friendly social media accounts. (After all, the company is going to google you anyway!) If you have a portfolio website, include that too. By the way, if your LinkedIn URL looks something like this: linkedin.com/in/jane-smith-5cu95802, create a custom URL for your public profile (e.g., linkedin.com/in/janesmith) by updating your public profile settings.
4. Include a summary or "personal branding statement" rather than an objective, which has fallen out of favor over the years. Here are some examples from the web:
"corporate troubleshooter regularly assigned to the most challenging initiatives" (source)
"cost-conscious benefits manager who has creatively tailored plans to employee needs at below average employer cost" (source)
"online ad sales director with 12 years of experience leading sales teams in start-up, rapidly growing, and established companies" (source)
5. Don't leave college activities on your resume forever. Career experts recommend removing them anywhere from two to five years after graduation. And unless you're a recent graduate, don't include your graduation year. Once you've past the "young professional" stage, leaving it off may protect you from age discrimination (and motherhood discrimination). (You might ask, "Well, can't they tell how old I am by looking at my listed positions?" but Alison Green of Ask a Manager recommends removing jobs that you held more than 15-20 years ago.)
6. Save and send/upload your resume as a PDF (rather than a Word document) so that the formatting will look exactly the same to the hiring manager as it does to you. Tip: I literally did not learn this until today, so some of you may not know this either — when you choose "Export" in Word and create a PDF, the formatting will be preserved, including hyperlinks. (A note based on some of the comments — if you KNOW a bot will be looking at your resume, upload a plain .txt version as well as a PDF version for human eyes, if you can.)
When is the last time you updated your resume? How long is it? How much do you alter it for each position you apply for? For those of you who REVIEW resumes, what are your main takeaways? Have you read about any other resume rules for 2017?
Further Reading:
Pictured: Pixabay