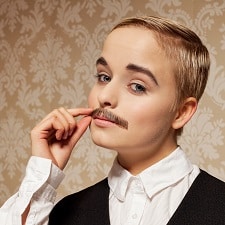 2019 Update: We still think this is a great discussion on overcoming imposter syndrome — but you may also want to check out our more recent discussion on how to handle imposter syndrome.
What are the best tips and tricks to overcome imposter syndrome, boost your confidence, and generally "fake it til you make it"? Reader C wonders:
I am very young for my position, and although I know full well I have the competencies for my job, I am also a bit socially awkward/insecure. When I am introduced as *My Title*, I recoil a little and get nervous about what people must be thinking to the point that I can't concentrate or I get flustered. My rational side tells me I have gotten to where I am because I am a skilled and competent person, but I definitely suffer from blinding Imposter syndrome and general insecurity. I know my "young woman" appearance, and my nervous composure and speech in some situations ruins others' perception of me, especially older colleagues that hold junior positions. How can I calm my nerves and appear more confident and competent?
Great question, C — like I've said many times before, I definitely suffer from imposter syndrome myself and think a lot of intelligent, overachieving chicks do — and we just talked about women's low confidence yesterday. (This comic is awesome and on point, btw.) We've talked about how to avoid acting young, and how to dress professionally without looking like you think you're in charge, but not in a few years — and how to act more confident is a bit of a different ball of wax. In terms of actual, practical tips for overcoming this:
Readers, do you identify with imposter syndrome? What concrete steps have you taken to overcome it? Has learning about imposter syndrome helped you overcome it?
Pictured: Shutterstock / Marcin Sylwia Ciesielski.