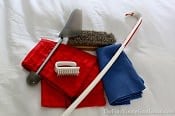 I've said it before, I'll say it again: shoe care and upkeep is very important when it comes to your appearance and general presentation, for both women and men. Yet why is there so much more information directed at men? Today I've brought in The Fine Young Gentleman to give us a few tips on shoe care — welcome, FYG! While pondering these tips, you may also want to check out The Corporette Guide to Comfortable Heels and the Newbie's Guide to Buying Designer Shoes. – Kat
Care for men's and women's shoes (including high heels) is not that different. Which is why you have a guy menswear blogger talking about the subject. Don't believe me? Think about it like this; both men's and women's shoes are made primarily from some menagerie of leather, cotton, rubber, and plastic. They are even made using some of the same techniques and methods. And they are worn the same way by both sexes; that is, they are used, abused and often neglected. The unfortunate, and inevitable, result of such negligence is that the shoes expire well before they should. No doubt resulting in varying levels of emotional and monetary harm. Yes, as a guy, I also hate it when I have to throw out my favorite pair of shoes because they are no longer wearable; weird, right? No, in fact, few things cause me more anguish when it comes to my wardrobe. But, fear not, there are ways to properly procrastinate the inevitable.
The first, easiest and most important thing you can do for your shoes is put in shoe trees when you are not wearing them. They are equally effective for men's dress shoes as they are for high heels or any other type of womens' shoes, including boots. They can help the shoes expel moisture (sweat, rain, etc.) and fend off creasing by holding the shoes' shape. Cedar or other wood is ideal but there are plastic models that are less expensive like those from Ikea (pictured above) that are $2-$3.
Shoe horns are not only for men's shoes. They are equally as useful and important for women's shoes. They help preserve the shape of the counter and quarter (the parts that often go around your heel) and can be acquired for less than a dollar, like the long handled Ikea one pictured.
Another simple and easy thing you can do is wipe your shoes down after every use with a towel or brush (pictured). It will help keep them free of dust and dirt and can help take out minor stains and scuffs. Additionally, on leather shoes this can help maintain the shine of the leather.
If your shoes are made of leather they will, from time to time, need more than just a simple wipe down. Leather needs to be conditioned, moisturized and polished to help prolong its life. You can do this yourself, or you can have someone do it for you. Patent leather and suede do not need to be polished.
Suede cannot be polished or wiped down. Instead, brush it off using a stiff bristled brush (like the small white handled one pictured). Suede can also be protected and cleaned more thoroughly using certain solutions when needed.
Do no drive in your heels! Simple. The stress that driving in high heels puts on the heel is terrible for your shoes. I also cannot imagine that it is comfortable in the least.
That closet floor looks so good with all of your shoes strewn about. But it looks so much better when they are organized. A simple shoe rack will help keep your shoes more organized and protect them from unnecessary abuse. Alternatively, you could store them in shoe bags or shoe boxes (like Kat does).
Shoe care should not just focus on the upper of a shoe. The sole is also important. If your heels (or other shoes) are leather soled, affixing a thin rubber sole can help extend their lifespan as well as give them more traction in inclement weather and slippery bar floors.
Water, snow, and especially road salt are all bad for shoes. Do what you can to limit your exposure to these hazards.
Those little rubber tips on the end of your heels are God's gift to hardwood floors. Without them the metal of the heel digs into even the hardest of hardwoods. Keep those tips on if at all possible, and replace them when worn — they can also affect the comfort of your heels.
This point focuses more on saving your feet rather than your shoes. But all shoes take time to break in; sometimes it helps to wear them around the house for a few hours before wearing them to work for a full day or out for a night. Your feet will thank you in the morning.
The logic is rather simple. Spend a few hundred dollars on a pair of shoes, why not take care of them? It will only take a few extra seconds when putting your shoes on and taking them off; which in the long run could extend the life of your shoes by months, if not years. Which will, over time, save you hundreds, if not thousands of dollars.
Readers, how do you care for your heels? Do you have any preferred brands of shoe trees, shoe horns, or any preferred methods of storage? What's your favorite way to break in a new pair of shoes?