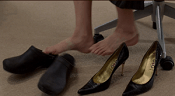 How do you make your heels comfortable?  (Update: Check out our Guide to Comfortable Heels!) We've gotten a lot of questions about shoes lately and thought we would have celebrate today as a shoe day. So we've got two posts coming your way: first, a question about how to make heels comfortable. Second, a question about how high is too high.
First, a reader wondered how to make heels more comfortable:
Love the blog! Can you do a post on making high heels comfy? I know a number of women at the office wear killer heels and swear by various inserts, etc. to make it happen. I don't need to wear 6 inch stilettos or anything but I'm 5'1″ and a litigator so low heels are a no-go in court since I can barely see over the podium. If someone could enlighten me as to how to make long days in heels a little easier, I would greatly appreciate it!
For us it comes down to a) buying shoes that fit properly, and b) adding ball-of-foot cushions, primarily. We're huge fans of Dr. Scholl's line (link at left); we also like the Foot Petals line (available online at places like Beauty.com). Other things to keep in mind include what kind of heel is on the shoe — you may want to get a plastic heel tip replaced with a rubber one.
If your shoe doesn't fit properly, you can make it fit better through certain tips and techniques. We end up adding heel inserts to almost everything because we're constantly sliding out of our shoes otherwise. Other people we know swear by the blister sticks (such as the Dr. Scholl's one, at right) or the add-where-you-want comfort strips (also at right). One woman we knew used to swear by wearing white athletic socks and a new pair of heels around the house until she was comfortable in them; another advised us to wear the shoes with bare feet, and to go to town spritzing them with a bottle of perfume — something about the alcohol in the
perfume helping to mold the leather to your feet. (We highly recommend just getting shoes that fit properly from the get-go, though — we end up sticking to a few brands that we know and like for our feet. Boring, yes, but it keeps us from crying.)
Something else that works for us: switching shoes on a daily basis. It lets the leather and the insole and everything else breathe, which keeps the shoes in better shape.
Readers, what are your tips and tricks for making your heels comfortable?