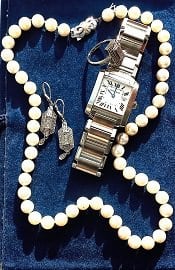 Have you ever bought an item so perfect that you just don't need to shop for anything similar any more? As in, the whole shopping category is just no longer one of your concerns? Did you KNOW it would be a shopping category killer when you bought it (i.e., the clouds parted, trumpets rang out, etc.) — or was it just something you fell in love with more and more as you had it?
In my own wardrobe, for example, I've seen it happen mainly with accessories:
My dangly diamond earrings and right-hand diamond ring: every time I see something similar I think, nah, if I'm looking for something sparkly and fun, why would I wear anything but my dangly diamond earrings and right-hand diamond ring? (I discussed both in my post on the best splurges I've made on products.)
A heavy black wool wrap from Henri Bendel: this one I didn't even like that much when I bought it, because super lightweight pashminas were very in at the time. I needed it for something specific, though, and it was on sale for around $150, so I bought it. I've proceeded to bring it to pretty much every wedding, every fall/spring evening out, and on every vacation I've taken since. I've bought other scarves and wraps in other colors, but my Bendel's one has stood the test of time.
My Cartier watch — I'll admit, I have bought other watches since the Cartier, but they never get worn.
I suppose there are other items here also where I've been so happy with the purchase that, when the item inevitably wears out, I just buy a new version instead of researching the area again. Spanx Higher Power tights… Fantasie bras (4510 for the win!), Weitzman Poco heels…
Readers, what purchases have been YOUR category killers? Do you have any regrets on the initial purchase? Were you surprised it became a category killer for you, or did you buy it hoping it would be the last X you'd ever buy? (For example — I love my dangly diamond earrings and right-hand diamond ring, but they were both a whim purchase, spurred in part by a sale — if memory serves the earrings were around $1000. I've worn them so much and will continue to do so that I kind of wish I'd splurged a bit more! But the need for "more" isn't so great that I need to buy new earrings (if that makes sense). On the flip side — were you disappointed in any purchase that you had hoped would be a category killer?
Psst: in the past we've talked about shopping habits like spreadsheets and "crop rotations," as well as the best places to shop online.